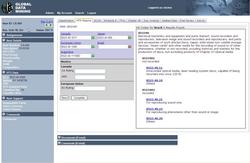 Ineffective supply chains cost U.S. businesses millions of dollars in hidden costs, destroying company profits and eroding global competitiveness. Auditing and improving basic processes helps U.S. executives identify and recover unnecessary costs.
Eden, UT (PRWEB) May 24, 2010
Global Data Mining LLC (http://www.gdmllc.com ), the leading provider of database management and customs classification systems, today announced a free Webinar on using Global Data Mining's supply chain audit to improve global trade processes and recover unnecessary costs in the supply chain.
What: Free Webinar on using Business Intelligence to identify hidden costs
When: Wednesday, May 26, 2010 from 2:00 p.m. to 3:00 p.m. EST
Why: Learn cost cutting best practices CFO's have yet to discover
Where:
Online: register by visiting https://www1.gotomeeting.com/register/381256616
"Business Intelligence (BI) can help U.S. businesses quantify hidden and unnecessary costs in their U.S. import operations," said Matt Gersper, president and founder at Global Data Mining, LLC. "In addition, auditing top-tier domestic suppliers using the same analytics helps identify unnecessary costs buried in a company's cost-of-goods, improves company profits, and strengthens the U.S. economy one business at a time. We are committed to helping trade professionals get their jobs done efficiently, quickly, and positively affecting the company's bottom line."
About Global Data Mining
Global Data Mining and its sister company CUSTOMS Info provide database management and customs classification systems to help businesses optimize global trade management (GTM) systems and streamline global trade automation. Global Data Mining helps multi-national companies optimize business processes and turn unorganized data into corporate assets managers and executives use to improve performance, save money and accelerate the international supply chain. CUSTOMS Info provides the world's most comprehensive trade data repository delivered via web-based subscription or as data to populate any GTM or Landed Cost application.
Working in conjunction with GTM applications, Global Data Mining and CUSTOMS Info's strategic partners include SAP, Oracle, MIC, Kewill, Arigo, Qwestaweb and others. Please visit http://www.gdmllc.com for more information.
###