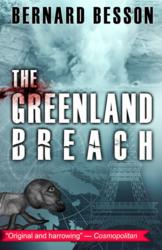 Suspense is omnipresent. The story navigates among climate change, subsequent natural disasters, corporate rivalries, murder, espionage, mysteries and love. Besson weaves a web that entraps readers.
New York, New York (PRWEB) May 29, 2013
Le French Book, an e-book publisher specialized in bringing France's top crime fiction and thrillers to new readers, announced that the American translation of Bernard Besson's spy novel will be called The Greenland Breach. It also revealed the cover of this thriller that is now scheduled for release in fall.
This page-turner explores what global warming means for geopolitics: espionage and intrigue, economic warfare and behind-the-scenes struggles for natural resources. Readers get a very plausible vision of the aftermath of impending disasters, along with non-stop suspense and the entertaining read of a good spy story.
In it, the Arctic ice caps are breaking up. Europe and the East Coast of the United States brace for a tidal wave. Meanwhile, former French intelligence officer John Spencer Larivière, his karate-trained, steamy Eurasian partner, Victoire, and their bisexual computer-genius sidekick, Luc, pick up an ordinary freelance assignment that quickly leads them into the heart of an international conspiracy. Off the coast of Greenland, a ship belonging to the French geological research firm is in serious trouble. The murder of an important scientist jeapardizes evacuation. Is it related to the firm's explorations? Is the rival Canadian-based scientific and economic development corporation involved?
On land another killer is roaming the icy peaks after researchers, while a huge crevasse splits Greenland apart. What are the connections? In the glacial silence of the great north, a merciless war is being waged. Global warming and subsequent natural disasters hide international rivalries over discoveries that will change the future of humanity.
Le French Book's team wanted the cover to give a feeling of impending disaster, with a French touch, and chose to include the image of a tupilaq. Readers learn in the novel that it "is a monster made up of bits of dead humans and animals. Certain shamans collect bones and frozen flesh scattered in the snow. They then mark out a magical place that communes with dark forces and dance around debris, singing ritual words to infuse it with life...Naturally, this is just a legend." The novel's hero receives a statue of one as a welcome gift when he arrives in Greenland.
The author
The book's author Bernard Besson is well placed to predict the impact of such disasters. In addition to being a prize-winning thriller writer, he is one of France's top specialists in economic intelligence. He has had a long career in French intelligence and law enforcement. He is a former chief of staff of the French FBI, was involved in dismantling Soviet spy rings in France and Western Europe at the fall of the Soviet Union. He lives in Paris. This is his first book to be translated into English.
The translator
Julie Rose is a prize-winning, world-renowned translator of major French thinkers, known for, among other works, her acclaimed translation of Victor Hugo's Les Misérables, which was published by Random House in 2008. She has translated twenty-eight books, including many French classics, and writes on the side. She lives in her hometown of Sydney, Australia, with her husband, dog and two cats.
Praise
"Original and harrowing." –Cosmopolitan
"This is a remarkable book that is fascinating, frightening, instructive and fun all at once." –Inter-Ligère
Click here for the full media kit.
About Le French Book
Le French Book (http://www.lefrenchbook.com) is a New York-based digital-first publisher specialized in great reads from France. Founder Anne Trager says, "There is a very vibrant, creative culture in France, and the recent explosion in e-reader ownership provides a perfect medium to introduce readers to some of these fantastic French authors." The company's motto is "If we love it, we'll translate it."
©2013 Le French Book, Inc. All rights reserved. Information is subject to change without notice.