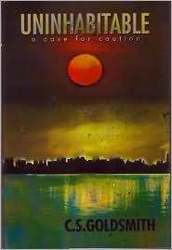 It is time for America to step up or step aside.
(PRWEB) April 20, 2011
In preparation for Earth Day 2011, Craig Scott Goldsmith, author of "Uninhabitable: A Case for Caution," has sent an open letter to humanity and its leaders cautioning the detrimental effects of releasing Co2 into the atmosphere.
Goldsmith says humans are accelerating Co2 emissions through overpopulation, the use of automobiles and by building an abundance of new coal fire burning plants, which will bury the Kyoto treaty. He says the effects of global warming are evidenced by the extreme weather conditions humans are currently experiencing, including decade-long droughts, massive flooding in Australia and record breaking snowfalls in the eastern part of the United States.
"Global warming doesn't mean it's going to be warmer, it simply means a disruption in the normal weather patterns," says Goldsmith.
Goldsmith warns that by continuing to inject more and more Co2 into the atmosphere, it will cause two very big problems for humanity:

Anoxia: The dramatic downward shift of the pH in our oceans, or oceanic acidification. "The oceans are absorbing so much Co2 from our modern lifestyle that they are becoming toxic and void of oxygen, creating dead zones around the world and putting oceans in jeopardy of collapsing within a few decades," says Goldsmith.
Methane Hydrate: Methane is a greenhouse gas that is at least 26 times stronger than Co2. When released in large quantities it will spike temperatures very quickly from 4-16 degrees on average. Methane is stored in vast quantities in the frozen tundra of the Siberian lakes regions. If Co2 emissions continue to warm temperatures, it will melt the frozen tundra and release large quantities of methane into the atmosphere, spiking temperatures beyond our threshold to survive.
Goldsmith says that "Now is the time to step up and solve this problem while we still can, even if that means we must suspend democracy for a while to get the job done, just as we did during World War II. Or, we should step aside and let China, India or South America take the lead on the climate change issue."
In his open letter he offers eight suggestions for reducing the threat of global warming:
1) Follow Princeton's 15-point wedge program for reducing Co2 emissions.
2) Look into any geoengineering solution that will reduce Co2 or scrub it from the air. "We can find ways to stimulate the Earth's natural systems to sequester Co2 by planting trees or stimulating Co2-eating algae blooms," Goldsmith says.
3) Set aside one-third of the oceans for the regeneration of marine life and look for ways to reduce or reverse oceanic acidity.
4) Put up a 500 million dollar prize for scientists who can find solutions to arresting or solving the climate change problem.
5) Encourage or provide tax incentives to families who have no more than one or two children until there is solution and sustainability plan in place.
6) Put an immediate moratorium on any new coal fire burning plants that do not have the technology to capture its Co2 emissions.
7) Switch over to electric cars and solar energy and do not allow out-dated technology to be transferred to third world countries, which would simply transfer the pollution to a new location.
8) Suspend debate and even democracy if necessary until the science community gives an indication that we are making progress in the right direction. "We did not debate the Manhattan Project, nor the Normandy invasion. Our leaders knew what had to be done and got on with it. That is why we elected them, to keep us safe and out of harm's way. Our president has the power; he must use it for the sake of humanity," Goldsmith concludes.
About Craig Scott Goldsmith
Craig Scott Goldsmith, president of Prevention Insurance, has spent a decade looking at the Climate Change problem from the risk assessment perspective of the insurance industry, evaluating all the risks associated with global warming and rising Co2. He is a Harvard Business School graduate and author of several books including "Uninhabitable: A Case for Caution" available at Barnes & Noble.
###