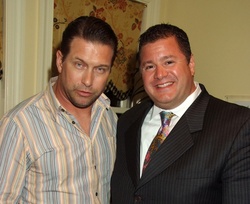 Considering this was the first fundraising event we hosted for Global BTM, we were thrilled with the turnout and support we received
RYE, N.Y. (PRWEB) August 4, 2008
"With the youth of America becoming more deeply involved in gang violence, drugs, and alcohol, this is something that is desperately needed right now. The youth of our country are lost and we must take steps to reach those that are considered high risk for failure", noted Mr. Baldwin, star of Donald Trump's Celebrity Apprentice, the hit 1995 film The Usual Suspects, and a veteran of over 60 movie and television appearances.
The event, held at Ruby's Oyster Bar and Bistro in Rye, brought together well-known individuals from the world of finance and ministry in order to help realize the shared dream of helping the youth of today. Notable attendees included Anthony Frascone of Avante Building Group, Phil Restivo of Turner Construction, Stephan Giuffrida of Global Physicians Billing and Breakthrough Ministries President Daniel Southern.
"Considering this was the first fundraising event we hosted for Global BTM, we were thrilled with the turnout and support we received", stated Mr. Anello, managing partner at CFA. "We reached our fundraising goal for this event and will continue to support this most worthy cause. After hearing about the success that Stephen had most recently during the debut of his AsSalt Tour, we dove right in."
An estimated 10,000 guests attended the debut of the highly anticipated AsSALT Tour, a radical extreme sports tour, at Austin's Promise Land Campus. A division of Baldwin's Global Breakthrough Ministry, the AsSALT Tour is a free, extreme sports tour that uses skateboarding, freestyle BMX and motocross to deliver a powerful message to today's youth about living with a purpose and making the right choices.
Baldwin assembled an impressive array of professional action sports athletes to deliver jaw-dropping performances. Legendary vert skaters Christian Hosoi, Chad Tim Tim, Andre Genovesi and Brian Sumner showed the crowd how to master a skateboard, while FMX team Riders IV Christ, led by last year's X Games gold medalist Kyle Loza, took charge of the dirt. Headlining the event was rock band House of Heroes.
For more information on tour dates and sponsorship opportunities visit: http://www.AsSALTTOUR.com. The official website of Global Breakthrough Ministries is http://www.globalbtm.com. In addition, Breakthrough Ministries can be supported through consumer purchases of everyday items at the Christian Values Network, located at http://www.cvn.org.
As a company that has proven itself with a multitude of successful deals, CFA (http://www.cfacap.com) has built a strong reputation for managing complex financial transactions, acquisitions, and recapitalizations with its innovative bridge and mezzanine programs. CFA has successfully funded assets such as multifamily residential, hotels, office buildings, medical facilities, and retail.
MULTIMEDIA GALLERY http://www.businesswire.com/cgi-bin/mmg.cgi?eid=5747720