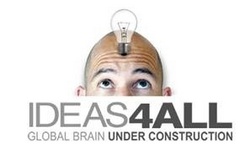 An idea refers to anything that a person creates in order to turn it into something useful. With ideas4all our aim is to bring together each and every idea posted to contribute to the
SAN FRANCISCO (PRWEB) July 16, 2008
SAN FRANCISCO (Business Wire EON) July 16, 2008 -- http://www.ideas4all.com, the new global forum for ideas, was launched today, offering content generated by users and introducing a novel way of sharing ideas and innovation. It will serve as a meeting point to bring together ideas from all over the world, in all languages, and provides a unique space to promote innovation, exchange and knowledge transfer that is open to all.
ideas4all is a community where people can share ideas, provide help and join forces seeking to improve the world we live in and where utility is not at odds with fun. The Web site will be available into two languages (English, Spanish) and shortly in Japanese and over 1,000 ideas have been posted already in a pre-test. It follows the concept of Web 2.0, helping to build the so-called "Global Brain" so that a host of creators of ideas can link up and work together. "Global Brain" is a metaphor for the way in which people can interact to create a collective intelligence.
First global forum of ideas
"An idea refers to anything that a person creates in order to turn it into something useful. With ideas4all our aim is to bring together each and every idea posted to contribute to the "Global Brain", in pursuit of our goal to become the first global forum of ideas, a unique democracy of ideas, ranging from the simplest to the most complex notions, ideas that can change someone's day and seek to change the world. We aim to create the best and most wide-ranging Internet community as far as the world of ideas is concerned and for this reason we need everyone to take part, regardless of their nationality or the language they speak. At ideas4all we believe that everyone is creative and that their ideas can be brilliant and useful for all," explains Ana María Llopis, founder of the initiative.
Ideas and challenges to share
According to market research conducted by TNS Sofres for ideas4all in the United States and the United Kingdom, most people have ideas and problems they would like to share, however, there is no easy way of doing this. 76% of those surveyed stated they had ideas they wished to share, 69% stated they had problems they would like to share with people in other places or within a closed circle and 55% believe that some good ideas are wasted because there is no easy way of channelling them.
ideas4all has been created, therefore, with the aim of providing the right platform for people interested in presenting their ideas, so that a great idea no longer gets lost or overlooked. It is also the place to pose challenges and help people who need solutions. Users can create ideas, pose problems, collaborate in developments or simply browse, give their opinion and vote on the best ideas.
ideas4all seeks to create a new trend in contributions and participation, as well as promoting the need to find talent to boost innovation in business, government, the public sector, NGOs, research and development departments etc., in other words, in society as a whole.
International Project
ideas4all is an Anglo-Spanish project. The founder-CEO of the initiative is Ana María Llopis and the main investors in the project come from the United Kingdom and Spain, although there are also investors from France, Italy and Belgium. The business model is based on sponsorship by an array of companies that need ideas and, in the future, ideas4all will continue to expand the number of services it offers in order to adapt to the needs of both users and businesses. Moreover, ideas4all will dedicate 10% of its profits to social initiatives.
Ana María Llopis is the founder of Openbank (the leading branchless Internet bank in Spain and the second biggest in Europe at its launch). Ana María Llopis is currently on the Board of Directors of ABN AMRO and BAT. She has also served as Director of the Reckitt-Benckiser Board and has held managerial positions in companies such as P&G, Playtex, Schweppes and the Spanish bank Banesto. She is also Executive Deputy Chairman of the José Félix Llopis Foundation for Latin American Art. A major in Physics and minor in Mathematics with distinction from the University of Maryland, she was awarded a master's degree and PhD (cum laude) in 1977 in Materials Science and Engineering from the University of California, Berkeley.