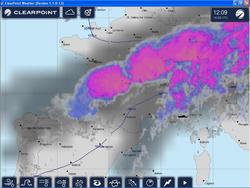 He brings exactly the right sort of high energy, expertise and deep knowledge of weather industry dynamics we and our customers are looking for.
Middleburg, VA (PRWEB) October 4, 2007
Stuart Johnstone is taking the helm of operations at ClearPoint High Definition Weather, the world's most comprehensive and easy-to-use ultra high-resolution weather information service. As such, Johnstone will be responsible for all aspects of marketing and technical operations for the innovative start-up service designed to fundamentally change the way consumers engage with marine and a host of other applications related to advanced weather decision-making.
"Stuart's experience and reputation in the marine and high technology industries will help bring ClearPoint to the next level in providing High Definition Weather to global users," said Jim Laramie, Chief Executive Officer, ClearPoint Weather. "He brings exactly the right sort of high energy, expertise and deep knowledge of weather industry dynamics we and our customers are looking for."
"ClearPoint represents the next big thing in marine and weather industry software," said Johnstone. "It's the only truly global, accurate, real-time weather service out there, offering ultra-high resolution weather data for all those looking for a superior weather solution. I am excited about the challenge of making ClearPoint the weather service of choice for people all over the world."
Johnstone is an experienced start-up and turn-around professional with more than 28 years experience managing businesses in technology and consumer industries. He served as President/CEO of CompassCare Inc., where he led a team that created the first fully integrated clinical EMR and PMS system as a Web service in healthcare IT. As Co-Founder and Chief Strategy Officer of boats.com, he built the leading marine marketplace in the boating industry which was later sold to Trader Publications. Johnstone was Co-Founder and CEO of Vosaic LLC (sold to VTEL/Forgent), a pioneer in the Internet streaming industry and partner with the University of Illinois/NCSA. He led an investment team and managed business development in a turn-around of Eidos Interactive PLC, a leading UK-based games publisher, recently renowned for its "Tomb Raider" game series and movie (starring Angelina Jolie). Johnstone was a founding member of J/Boats in 1977 at the age of 19, which became the leading high-performance sailboat brand worldwide with over 15,000 boats sold in 50-plus countries. He also co-founded J/World, the premier high-performance sailing school for adults.
Unlike other weather services, ClearPoint tracks marine craft as they sail to show prevailing weather conditions at any location. ClearPoint is accessible via any conventional Internet, broadband, Wi-Fi or satellite service. Accurate to the nearest kilometer, ClearPoint offers thousands of detailed weather combinations to anyone looking for highly accurate, continuous weather forecasts anywhere they travel. ClearPoint also features the world's most advanced predictive technology, providing accurate weather information up to five days ahead, anywhere across the globe.
ClearPoint offers ultra high-resolution data up to ten times that of other weather providers. ClearPoint weather can be easily accessed over standard Internet, broadband and Wi-Fi connections, and offers full compatibility with the world's GPS and satellite communications services for continuous, real-time weather data feeds anywhere on the high seas.
ClearPoint weather service is compatible with virtually any communications link, including broadband connections, Wi-Fi and marine satellite communications such as Iridium and Inmarsat. ClearPoint can be downloaded as an approximately 8MB executable file over the worldwide web at: http://www.clearpointweather.com/subscribe.aspx. The client application can also be launched directly from a ClearPoint CD or portable flash drive.
About ClearPoint High Definition Weather ™
ClearPoint High Definition Weather is the world's most comprehensive and easy to use ultra high-resolution global weather information service for sailboat racers, cruisers, fishermen, yacht clubs, marinas, resorts, and weather-trackers, worldwide. ClearPoint offers real-time, accurate weather data for advanced weather decision-making. Headquartered in the Washington D.C. metropolitan area, TrueNorth Global Inc. launched its ClearPoint weather service in 2007. Additional information can be found on ClearPoint's website at: http://www.clearpointweather.com.
CONTACTS:
Matthew Piette
ClearPoint
+1 512 736 8316
mpiette@clearpointweather.com
© 2007 TrueNorth Global Inc., ALL RIGHTS RESERVED. ClearPoint Weather, ClearPoint High Definition Weather, and ClearPoint Racing Edition are trademarks of TrueNorth Global Inc.
# # #