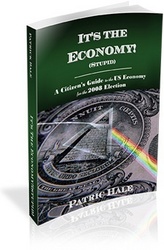 The global economy in the 21st century means America will have to compete in ways it never has in past
GREENWICH, Conn. (PRWEB) October 20, 2008
According to Dr. Roger Nelson, Emeritus, former Assistant Dean and Chairman Department of Management, The David Eccles School of Business, University of Utah, "Hale's book is an 'absolute must have' for every concerned citizen. It's a one-stop, exhaustive collection of data providing factual perspectives on all major economic issues, institutions and fundamentals that affect every citizen."
"The global economy in the 21st century means America will have to compete in ways it never has in past," says Hale. "The first step is to understand that global competition is defined by a shift away from the 'nation-state' to 'economic entities' where countries compete alongside the private sector. This is the basis for the Hale 200 Index."
In It's the Economy! (Stupid), Hale describes why it is understandable that most consumers and politicians still view issues of sovereignty in terms of the geographical delineations of the nation-state, which remains true only in political terms. Hale goes on to provide analysis regarding international trade deficits, U.S. financial markets and the federal budget.
Hugh Menzies, former Associate Editor of Fortune and former International Business Editor of BusinessWeek says, "This is a most timely book and one that every American concerned for his country should read and think about."
Created as a timely and authoritative view of today's economic policy which provides easy-to-understand facts and figures. It's the Economy! (Stupid) will enable readers to successfully navigate through the Presidential election and economic turbulence.
About Patric Hale
Recognized internationally for his truth and foresight regarding economics and global capital markets, Hale is president of Capital Markets, LLC and author of four acclaimed books. Hale's career includes senior positions with prestigious international financial media, including Publisher of Corporate Finance, Managing Director EMEA for Global Finance and Executive Vice President of North America for Euromoney. He was also Senior Vice President for Europe, Middle East and Africa for CNN International. As a speaker at national events, Hale is readily accessible to the media for interviews and on-air discussions.