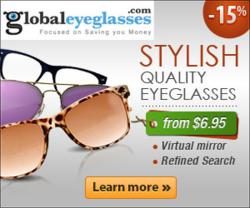 Brille7.com is particularly known for combining extremely low prices with a high quality of craft production
Atlanta, GA (PRWEB) July 21, 2011
GlobalEyeglasses.com recently launched Brille7.com, a German counter part to the American website. Brille7.de allows the German speaking population access to its wide selection of glasses. GlobalEyeglasses.com is one of the world's leading online eyeglass retailers today, and one of the very first companies to start selling prescription eyeglasses over the Internet. The company wants to provide people all over the world with affordable, quality, prescription eyeglasses and various options of prescription lenses. The website also offers 100 percent satisfaction guarantee.
Brille7.com is one of the world's leading online portals for the individual production and shipment of eyeglasses and sunglasses of any kind, with or without optical correction. Brille7.com is particularly known for combining extremely low prices with a high quality of craft production. This applies equally to the supply of large designer labels by Ray-Ban on Vogue, Gucci and Christian Dior.
Founder of GlobalEyeglasses.com, Arjun Sagar says, "The German website will focus on having a different inventory of frames from what is available on GlobalEyeglasses.com, with a higher focus on quality and service. The company's next plan is to also open a Spanish and French e-commerce portal."
GlobalEyeGlasses.com centers around customer satisfaction and bringing clear and perfect vision to customers around the world. Focused on quality, style and saving money, GlobalEyeglasses.com set out to provide cheap eyeglasses for every customer.
For more information visit GlobalEyeglasses.com or Brille.7.com or like them on Facebook.
About the GlobalEyeglasses.com:
GlobalEyeglasses.com is the online optical shop for prescription eyeglasses bringing accurate vision, quality and style at lower prices. Started in 2005, GlobalEyeglasses.com set out to provide affordable eyeglasses for everyone. Offering large collection of professionally made prescription eyeglasses and Rx sunglasses, GlobalEyeglasses.com is focused on saving your money. With a sales growth of over 100 percent in the past 12 months, Global Eyeglasses has seen a marked shift in consumer behavior as customers begin to look for better prices on prescription eyeglasses.
About Brille.7.com:
Brille7.com is a rapidly growing company, specializing in manufacturing its own high-quality glasses. Brille7. always offers low prices. The company is a branch of the American company.
Contact:
Arjun Sagar
GlobalEyeglasses.com
1-800-315-4428
# # #