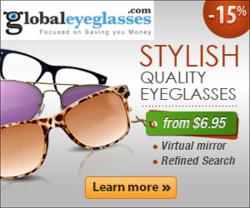 ...every lens and frame is rechecked for accuracy, precision and quality before being shipped out to customers.
Atlanta, GA (PRWEB) July 21, 2011
GlobalEyeglasses.com recently reached the milestone of having 100,000 customers. The site launched in 2005 with the idea of providing affordable eyeglasses for everyone. GlobalEyeglasses.com was one of the first to companies to create an online store for patients in need of eye support; it ensures that every customer receives the right eye protection that he or she needs.
GlobalEyeglasses.com, specialists perfectly understand a customer's optical needs. Each lens is custom made and finely crafted based on specific prescriptions. In fact, every lens and frame is rechecked for accuracy, precision and quality before being shipped out to customers. Globaleyeglasses.com offers a complete customer satisfaction validated by a 100% precision and quality guarantee.
The company has revolutionized the way people purchase their prescription eyeglasses at amazingly low prices. The online store offers inexpensive prescription glasses, with prices starting at $6.95, while those that are branded and styled to perfection can cost only up to $50. The use of high technology gained even more interest from buyers around the U.S. and in other parts of the world.
Customers can choose from a variety of products offered by GlobalEyeglasses.com. These include men's eyeglasses, women's eyeglasses, kid's eyeglasses, rimless eyeglasses, bifocal eyeglasses and new wooden eyeglasses.
Meanwhile for sunglasses, the online retailer offers aviators, prescription sunglasses, wayfarer sunglasses and sports prescription sunglasses. All eye wear promise both comfort and precision to users.
For more information visit GlobalEyeglasses.com or like them on Facebook.
About the GlobalEyeglasses.com:
GlobalEyeglasses.com is the online optical shop for prescription eyeglasses bringing accurate vision, quality and style at lower prices. Started in 2005, GlobalEyeglasses.com set out to provide affordable eyeglasses for everyone. Offering large collection of professionally made prescription eyeglasses and Rx sunglasses, GlobalEyeglasses.com is focused on saving your money. With a sales growth of over 100 percent in the past 12 months, Global Eyeglasses has seen a marked shift in consumer behavior as customers begin to look for better prices on prescription eyeglasses.
Contact:
Arjun Sagar
Globaleyeglasses.com
1-800-315-4428
# # #