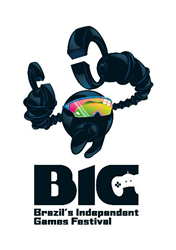 Leading mobile publishers poised to participate in keynotes during Big Festival 7th edition.
SAO PAULO (PRWEB) May 23, 2019
Brazil's Independent Games (BIG) Festival, the largest indie gaming expo in Latin America, announced today that a cluster of prominent international mobile gaming companies will be attending its 7th edition, making the gaming application business front and center at this year's event. As part of Brazil Games' efforts to further consolidate and promote the Brazilian Game industry internationally, local attendees will be treated to panels and talks whose participants will be composed of companies that have contributed to the creation of the most recent trends in the mobile video game publishing business.
Representatives from major publishing houses with proven track record will present their latest case studies to explain their involvement with helping mobile game developers to reach profitability by developing customized marketing and monetization campaign strategies. Part of the focus will aim at explaining how to develop and deploy the necessary tools in order to reach the KPIs threshold that have become standards in the industry in terms of user acquisition, engagement, valuation and retention.
The Brazilian Independent Games Festival is honored to welcome this year the mobile video game companies listed below which will host the debates and discussions over the fundamentals on how to become successful in the mobile video game publishing business.

BIG Festival 2019 Edition will be taking place in Sao Paulo, Brazil from June 27 to June 30. The event covers competition between national and international games with cash prizes, exhibition of the selected games, awards ceremony, lectures and business rounds. For more information visit https://www.bigfestival.com.br/home.html.
About BIG Festival
BIG Festival (Brazil's Independent Games Festival) has been held since 2012 and is considered one the most influential and innovative independent gaming festival in Latin America. With the mission to strengthen the Brazilian video game ecosystem, the event produces a yearly international independent video game award competition offering significant cash prizes, a major exhibition showcasing hundreds of games including the awards nominees, a spectacular awards ceremony event, industry related lectures and business rounds. In 2017, BIG hosted more than 20,000 visitors, 3,500 of them having participated to lectures, and more than 1600 guests attending business meetings. This year BIG will expand its schedule of lectures and workshops by incorporating new topics and areas that are part of games development cycles, such as music, animation, virtual and augmented reality, a career center, among others segments already present at the event.
About Brazil Games
Brazil Games is the export program created by the Brazilian Independent Game Companies Association, ABRAGAMES, in partnership with Apex-Brasil, the Brazilian Trade and Investment Promotion Agency. Our goal is to promote the Brazilian Indie Game industry internationally, developing new business opportunities for our companies. The Brazil Games Program also promotes Brazil as the hub for business in Latin America and invites buyers, investors and publishers for BIG Festival, Brazil's Independent Games Festival, the most important international indie games festival and the hub for international business in Latin America.
About Apex-Brasil
The Brazilian Trade and Investment Promotion Agency (Apex-Brasil) works to promote Brazilian products and services abroad, and to attract foreign investment to strategic sectors of the Brazilian economy. Apex-Brasil organizes several initiatives aiming to promote Brazilian exports abroad. The Agency´s efforts comprise trade and prospective missions, business rounds, support for the participation of Brazilian companies in major international trade fairs, arrangement of technical visits of foreign buyers and opinion makers to learn about the Brazilian productive structure, and other select activities designed to strengthen the country's branding abroad. Apex-Brasil also plays a leading role in attracting foreign direct investment (FDI) to Brazil, by working to identify business opportunities, promoting strategic events and lending support to foreign investors willing to allocate resources in Brazil.