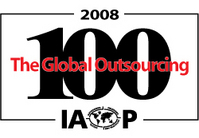 The https://www.globaloutsourcing100.com/default.asp? [Global Outsourcing 100] brings tremendous value to both outsourcing providers and companies looking to do business with them
Poughkeepsie, N.Y. (PRWEB) September 17, 2007
The International Association of Outsourcing Professionals (IAOP) today announced that applications are being accepted until mid-November for its third annual ranking of the world's best outsourcing service providers, The Global Outsourcing 100.
The association expects to receive hundreds of applications from companies of all sizes representing the full spectrum of outsourcing services for the rigorously judged, independent ranking that serves as a benchmark to gauge the strength of the industry as a whole and its service providers.
"The [Global Outsourcing 100 brings tremendous value to both outsourcing providers and companies looking to do business with them," said Christina Powers, IAOP executive director. "It demonstrates the provider's expertise, competency and success rate, and helps companies make better, more informed decisions and comparisons when selecting outsourcing service providers."
IAOP is seeking applications from both larger established leaders and smaller emerging companies. It also publishes more than 25 sublists, ranking outsourcing companies by the industry served, services offered and region of the world where services are delivered. The winners will be announced in February.
For the past two years, IBM has been ranked #1 on the list. The ranking also reveals trends about the outsourcing industry, its size and strength, employment, productivity, key industries and markets, and emerging destinations and segments.
Companies are ranked on their applications by a panel of judges, comprised of IAOP member professionals, according to four main areas:

Size and growth in revenue, employees, centers and countries served
Customer experience, as demonstrated through the value being created with the company's top customers
Depth and breadth of competencies as demonstrated through industry recognition, relevant certifications, and investment in the development of people, processes, and technologies
Management capabilities of the business's top leaders and investment in management systems
Jagdish Dalal, managing director, thought leadership for IAOP and a Certified Outsourcing Professional (COP), is leading the evaluation panel.
The [application deadline is Nov. 15.
About IAOP
The International Association of Outsourcing Professionals (IAOP) is the global standard-setting organization and advocate for the outsourcing profession with 40,000 members
Contact:
Sandy Frinton
JMC Marketing Communications & PR
(845) 454-3895
###