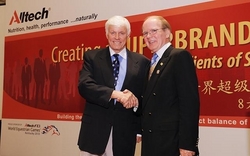 you can't be a little bit honest, it's all or nothing
Beijing, China (Vocus) May 13, 2010
''When I became an entrepreneur, I was too young to spell it,'' said founder of the KFC superbrand, Governor John Y. Brown Jr. at a dynamic seminar on innovation and building businesses into global superbrands hosted by global animal health company, Alltech in association with the American Chamber and European Chamber in Beijing and Shanghai, China. Over four hundred top Chinese and international business and agribusiness leaders gathered to hear presentations given by Alltech Founder and President Dr. Pearse Lyons and former Kentucky Governor and founder of the KFC franchise John Y. Brown Jr. Both entrepreneurs shared their thoughts on the pillars needed to build a sustainable, global superbrand.
Under Governor John Y. Brown's ownership, Kentucky Fried Chicken grew from 600 stores to more than 4,500 stores in less than 8 years. Speaking at the seminar, Governor Brown outlined his 8 point plan 'The 8 Secret Ingredients of Success' for building a superbrand. ''Always remain entrepreneurial,'' he said highlighting the fact that he brought his entrepreneurial spirit to office when Governor of Kentucky by running the state like a business. He emphasized the need to build a brand through PR and advertising: "When we started building KFC, we had the Colonel on 33 national TV shows in 3 years. This unique brand was the news story."
Other 'secret ingredients' included, the need to keep it simple, build a good and empowered team and maintain integrity no matter what, "you can't be a little bit honest, it's all or nothing," he remarked.
"If you can see opportunities that others can't see then you're halfway there -- an entrepreneur will take that extra step and turn the opportunity into a reality," Dr. Pearse Lyons told delegates. Alltech's $10 million sponsorship of this year's Alltech World Equestrian Games and the phenomenal effect that the sponsorship has had on the Alltech brand is a key example of this.
Dr. Lyons stressed the importance of creativity and "being different" highlighting the example of his company's name, which was formed using the initials of his daughter's name. This creative spirit has seen Alltech establish its own brewing company which produces the award winning Kentucky Ale and get involved in innovative initiatives such as the development of Dippin' Dots ice-cream.
Despite a minor setback in 2009, the Chinese economy is continuing to grow by over 10% this year and economists predict that China's growth (together with that of India) may make Asia the source of 50% of the world's gross domestic product by 2030. This fact alone would make China an obvious market for any business striving to be a serious player on the international stage. Seminars such as the one held today provide a unique forum for Western and Chinese agri-businesses to exchange ideas and information on building their respective businesses.
Following the recent introduction of food safety legislation by the Chinese Government issues of total farm to fork traceability were also high on the agenda. In this regard, Governor John Y. Brown emphasized the need for honesty and full disclosure, while Dr. Pearse Lyons highlighted Alltech's strong focus on food safety, beginning with the elimination of any risk associated with the feed that the animal consumes by way of a stringent quality assurance and risk management system.
The 8 Secret Ingredients of Success highlighted at the seminar were:
1. Nothing happens until a sale is made
2. Build your brand
3. The art of compromise
4. Building a team
5. Making the deal
6. The value of hard work
7. Controlling your destiny
8. Giving back
Recently named one of America's top business leaders of the 20th Century by Harvard Business School, Governor John Y. Brown, Jr. is recognized as the individual who launched the Kentucky Fried Chicken superbrand. In just 30 years, scientist Dr. Pearse Lyons has built Alltech from an initial investment of $10,000 into the 9th largest and fastest growing animal health and nutrition company in the world.
About the speakers:
John Y. Brown, Jr. received a bachelor's and a law degree from the University of Kentucky, USA. He first made his mark in the restaurant franchise industry by recognizing the appeal of fast fried chicken during the 1960s and made "The Colonel" famous. As co-founder of Kentucky Fried Chicken, Inc., he established an international reputation by building KFC into the world's largest fast-food service company, and one of the first American fast food companies to enter Asia. During this time he was responsible for growing KFC from 600 stores to more than 3000. He has also been an owner of two professional basketball teams: the Boston Celtics, and the Kentucky Colonels. As Governor of Kentucky from 1979 to 1983, he reduced the budget by 22 percent and brought record commerce to the state. In 2009, John Y. Brown, Jr. was named as one of the top American business leaders in the 20th century by Harvard Business School.
Dr. T. Pearse Lyons is the founder and president of Alltech, a global animal health and nutrition company. The company employs more than 2,300 employees and has a presence in 120 countries around the world. Lyons received his bachelor's degree from the National University of Ireland in Dublin and pursued his master's and doctoral degrees at the University of Birmingham, England. He founded Alltech in 1980 in Lexington, Kentucky, USA. Still privately owned, today the company is listed as one of the top 10 global animal health and nutrition companies in the world. Lyons was the Kentucky recipient of the Entrepreneur of the Year in 1993 and was recognized as one of the top 15 Irish-American life scientists of the year by Biolink USA-Ireland. He has been awarded honorary doctorates for his contribution to science from the following universities: University College Dublin, the University of Plymouth and Herriot – Watt University, Edinburgh, Scotland. He has authored more than 20 books and numerous research papers in scientific journals. Alltech is the first ever title sponsor of the Alltech FEI World Equestrian Games 2010™ to be held in Kentucky, USA from the 25th September to the 10th October 2010.
Alltech China was established in 1994 in the Beijing Huairou economic development zone. In 2006, the Guangzhou, Chengdu and Qingdao offices were opened to provide direct services to the company's growing customer base in the region.
###