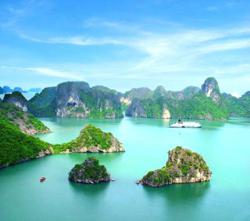 A Halong Bay cruise will be a highlight of any trip to Vietnam.
Encinitas, CA (PRWEB) February 28, 2012
Sustainable travel company Global Basecamps specializes in creating unique trips that take tourists off the beaten track to experience more cultural and memorable aspects of travel. Global Basecamps' new Halong Bay Eco Tour ventures away from the crowds on a traditional junk, a wooden boat with three barge sails, cruising through peaceful areas of the Bay to Bai Tu Long. The cruise passes by floating villages, limestone peaks, and hidden caves along the way. Travelers have the opportunity to interact with the locals while exploring the floating villages by kayak. With a maximum capacity of eight on the junk, the cruises provides an intimate and relaxing atmosphere.
After breakfast in Hanoi, travelers depart for Halong Bay, the world's largest marine limestone 'karst' landscape. Upon arrival, travelers board a private wooden junk with it's own docking area. The boat has four cabins, with two twin beds or a double queen size bed. Every cabin is air-conditioned and has a window looking out to the bay. All meals are provided on the cruise and usually include fresh seafood. The cruise begins through Bai Tu Long Bay area, then continues on toward Cong Do area, where the boat stops to investigate some of the less visited caves. Exploring the area by kayak provides a unique opportunity to experience the bay with few people around. As the route is designed to avoid busy areas, the junk stops at a very quiet location for the first overnight stay.
The following day, after breakfast, the cruise journeys to a private sandy beach with plenty of time for some swimming and exploring. After a delicious BBQ lunch, there is free time to relax on the beach or explore the bay by kayak. The third day begins with a refreshing swim or by relaxing on the sundeck, followed by a visit to a fishing village and a hidden lagoon on a rustic rowing boat. The journey ends at a pearl farm, enabling travelers to learn about the process of making high quality pearls. The cruise then returns to the dock where travelers will be picked up to return to Hanoi and enjoy the rest of the day in the city at their leisure.
With travel options including Halong Bay cruises, tribal village experiences in Sapa Valley, and beautiful beaches along the coast, it's hard to beat Vietnam tours. There is a variety of travel options available within a limited amount of time; visit the mountains, beaches, and experience the unique culture during a 2 week visit! Further, there is never really a bad time of year for Vietnam travel. The weather varies from the north, south, and central regions, meaning one part of the country is always experiencing ideal weather conditions. The north of Vietnam is the coolest. Hanoi and the coastal regions, including Halong Bay, experience warm temperatures year round and rainy season lasts from May to October. Central Vietnam has warm weather from July to October and rain and cool weather from November to May. The south is hot and humid year round, with summers being very humid and rainy.
Most tourists traveling to Vietnam start in the north and then travel south, or vice versa, with the most popular destinations being Hanoi and Halong Bay. "A Halong Bay cruise will be a highlight of any trip to Vietnam. Not only is Halong Bay incredibly beautiful and serene, but you will find that our high quality programs offer fantastic service, friendly and knowledgeable guides and delicious cuisine," says Global Basecamps' travel specialist Meagan Yash. Whether you are traveling for a seven days or three weeks Global Basecamps' Halong Bay eco tour is the perfect addition to any Vietnam trip, providing a unique journey through the incredible UNESCO World Heritage site.
Global Basecamps is a specialty travel resource designed to simplify the process of researching and booking sustainable hotels, lodges and private tours worldwide. Allowing independent travelers to journey at their own pace and ensuring trip priorities are met while keeping maximum flexibility on the road, Global Basecamps truly makes exploration easy. Please visit http://www.globalbasecamps.com.
###