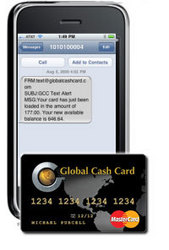 With mobile becoming a 'must have' channel for many industries, offering quick and easy access to your paycard account is an excellent benefit
Irvine, CA (Vocus) November 29, 2010
Global Cash Card™, the proven specialist in customized paycard solutions, now offers GCC Two-Way Text, a free text messaging service that delivers account updates to mobile devices on demand to customers nationwide.
GCC Two-Way Text allows customers the ability to manage their account by viewing recent account activity: purchases, payment amounts, and debits.
Once set up in the program, customers simply text a short command – such as BAL (for balance) – to 28547. Within seconds, they will receive a text message with the account information requested. It makes accessing their accounts as simple and easy as text messaging friends and family.
"With mobile becoming a 'must have' channel for many industries, offering quick and easy access to your paycard account is an excellent benefit," said Joseph F. Purcell, President and CEO of Global Cash Card. "We want to provide our cardholders with every convenience to make their lives easier."
GCC Two-Way Text was developed with a customer's security in mind. Customer account numbers are not used. Global Cash Card uses secure connections, encrypted data transfers, and other industry best practices to provide the most secure access possible.
Global Cash Card encourages cardholders to take the following measures to protect their account:

Never share your account information with anyone.
Never include your card number in a text message.
Do not share your phone with anyone and protect your phone with a password.
Delete any unnecessary messages. Anyone with access to your phone has access to your messages.
Keep your mobile information up-to-date in your mobile preferences.
GCC Two-Way Text is available to Global Cash Card cardholders with any U.S. Domestic mobile provider supporting two-way text messaging. Messaging & Data Rates May Apply. Global Cash Card does not charge for this service, however, refer to your plan with your mobile carrier for more information.
To enroll or to learn more visit http://www.globalcashcard.com/mobile
About Global Cash Card
Global Cash Card™ is the proven specialist in customized paycard solutions that are simple to implement and easy to use. The company is a wholly owned subsidiary of World Processing, Ltd, a leader in electronic financial transaction technology. Global Cash Card is a direct processor that offers Debit MasterCard cards and Visa Prepaid cards. The company develops and owns the proprietary software, which enables the products and services it offers.
The platform provides payroll cards, travel, gift, FSA, HSA, and many other types of applications. Global Cash Card also offers branded and customized programs. Global Cash Card's cutting edge technology continues to improve, offering more value and greater flexibility to meet the particular requirements of its customers. Visit us at http://www.globalcashcard.com.
###