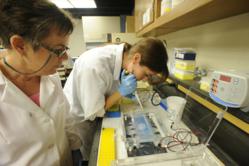 New Orleans, LA (PRWEB) October 27, 2012
Loyola University New Orleans will host an international science conference Oct. 30 – Nov. 2 where scientists from at least 40 countries will gather to present ground-breaking research on some of the globe's most devastating diseases. The 11th annual MEEGID conference, or Molecular Epidemiology and Evolutionary Genetics of Infectious Diseases, will showcase recent results of research on HIV, malaria, flu and also Chagas disease—a specialty of Loyola professor Patricia Dorn, Ph.D.
The conference represents a global approach to combating infectious disease and is chaired by Michel Tibayrenc, M.D., Ph.D., from France. The conference was previously held in locations such as Amsterdam and the Sorbonne University in Paris.
As a part of the prestigious MEEGID conference in New Orleans this year, Dorn will present her latest research on the blood-sucking bugs that transmit Chagas disease. Her DNA research on the bugs offers a vital step in understanding the "kissing bugs," important in stopping the bug from spreading Chagas disease. The disease is actually caused by a parasite spread by the "kissing bug," which often feeds on victims' faces at night. The parasite infects from eight to nine million people in Latin America and also people in the U.S. In 20 to 30 percent of victims, it causes fatal heart disease.
The conference will also feature an extensive program of presentations featuring internationally recognized speakers on Loyola's main campus, as well as a gala dinner at Dickie Brennan's Palace Café on Thursday, Nov. 1.
In celebration of Loyola's centennial, the final plenary sessions on Friday, Nov. 2, from 2 – 3:30 p.m., will be free and open to the public. Pioneering researchers Seth Walk, Ph.D., of the University of Michigan Hospital and Health Systems, Scott Weaver, Ph.D., of the University of Texas Medical Branch, and Frederic Simard, Ph.D., of France's Institute for Development Research, will present on the evolution of E. coli, the emergence of arthropod-borne viruses, and population genetics and evolution of mosquito species, respectively. All of the final plenary sessions will take place in Louis J. Roussel Performance Hall, located in the Communications/Music Complex on the corner of St. Charles Avenue and Calhoun Street.
For more information, contact Mikel Pak, Loyola's associate director of public affairs, at 504-861-5448.