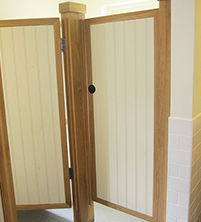 Effective hygiene is essential not just your own health and wellbeing, but that of your friends, family and co-workers too
Bolton, Lancashire (PRWEB) November 17, 2011
The study, produced by the London School of Hygiene & Tropical Medicine and Queen Mary, University of London involved scientists visiting 12 British cities, gathering a total of 390 different swabs from both participants' hands, and their mobile phones. Richard Dalton is owner of Qubicle, a Bolton based company responsible for providing washroom cubicles with a ten year warranty to various different sectors across the country. 'This research is very interesting as it reveals the issue affecting our health is occurring in washroom cubicles up and down the country and raises the awareness of what is a large problem that needs to be resolved- for everyone's sakes'.
Subjects received a series of questions related to their typical hand washing routine when visiting washroom cubicles to accompany the physical evidence gathered, which coincidentally revealed that of those who participated, many possessed the ability to fabricate the details of their hygiene habits.
According to data gathered from the interview results, 95% of subjects confirmed that they washed their hands thoroughly after every visit to public washroom cubicles and private domestic bathrooms, but the results of the laboratory testing confirmed otherwise; 82% of hands swabbed carried potentially harmful germs, and 16% of those harboured the faecal-based bacteria, E.coli.
'Obviously in my line of work it's in my interest to have an extensive knowledge of infections and germs a person can transfer when using toilet cubicles. All bathroom facilities, whether they are your personal bathroom, toilet cubicles in work, or those in a public place can harbour potentially dangerous bacteria if the users themselves are not cleaning themselves adequately. 'Qubicle are toilet cubicle suppliers that provide a stylish, high quality range of fittings for bathrooms in sectors as diverse as prisons, nightclubs, hotels and hospitals, and so Dalton is keen to promote the research to users of all facilities. 'As toilet cubicle suppliers across such as diverse market, I am in a good position to raise an awareness of these results and warn people about the dangers of not adequately washing their hands.'
Associated with serious illness and at the very least, upset stomach, E. coli is the cause of food poisoning cases, including Germany's recent and fatal O157 outbreak during the summer. Richard Dalton: 'This research confirms to me that in this day and age, not enough people are taking this basic responsibility seriously. I sincerely hope that the results of this research receive the publicity they deserve. Raising an awareness of this problem can help us to prevent illness and potentially save lives.' The E.coli bacteria enjoys warm climates, ideally those away from sources of direct sunlight, and survives for hours on surfaces and hands, making the transfer by touch onto food, pens, keyboards and mobile phones very simple.
As a result, 3.5 million children aged 0 to 5 years die because of contracting either pneumonia or diarrhoeal diseases- something which can be virtually resolved by the simple revision of our hand washing routine. Third World countries are already utilising this information and promoting effective and healthy hand washing habits, preventing the spread of other viruses including influenza, rotavirus and norovirus.
The research also revealed the results of the mobile phone swabs, which comprised a large part of the laboratory tests- that too does not make for easy reading; 92% of the phones tested were carrying bacteria, and 16% of those harboured E. coli.
Richard Dalton of washroom cubicle suppliers Qubicle, warns just how serious these results can be. 'These figures mean that 1 in 6 of the phones tested were contaminated with bacteria associated with faecal matter. Effective hygiene is essential not just your own health and wellbeing, but that of your friends, family and co-workers too. By raising an awareness of the problem, we can work together to achieving the solution.'
Interestingly, as the research involved subjects from twelve cities, scientists were able to map the regional differences between participants, which again makes interesting reading. Birmingham held the highest amount of infection carried by 41% of the subjects; however, it was Londoners who sported the highest amount with 28% with E.coli on their hands.
The scientists also realised that the further north they surveyed, a North/South divide became evident; The dirtiest city was Glasgow, where the amount of bacteria and both hands and mobile phones was nine times more than those recorded in Brighton. Researchers also realised that when subjects were found to have bacteria on their hands, they were three times more likely to have it on their mobile phone too.
The study was originally commissioned to support Global Handwashing Day- an annual event promoted by a coalition of various concerned manufacturers, authorities and charities to raise an awareness of the importance of an efficient and regular hand washing routine. Supported by a dedicated website, GlobalHandwashingDay.org, offers valuable online resources and materials available to download and promote the event, held on October 15th.
'The research analysis did reveal many interesting figures from up and down the country. Although some cities faired better than others, that is not the issue; the main concern is that this is a nationwide problem. People may profess to wash their hands efficiently on a regular basis, but the laboratory results prove otherwise,' says Dalton, owner of washroom cubicle suppliers Qubicle. 'Global Handwashing Day this year has been more successful than before and the results of this research are a warning to all of us how important this issue is.'
This Press Release is part of an SEO campaign by Vizcom. For more information please click Search Engine Optimisation Manchester. Qubicle website design also by Vizcom, click Web Design Bolton
###