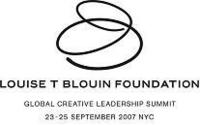 Taking a holistic approach to this challenge -- emphasising cross-disciplinary and creative thought -- the summit stresses the importance of developing dialog, empathy and cultural understanding among different societies
New York, NY (PRWEB) August 30, 2007
A new platform to address the challenges of globalization will take place at the Second Annual Global Creative Leadership Summit. Topics such as climate change and international trade will be discussed. The summit, presented by The Louise T. Blouin Foundation, an international non-profit organization, will be held September 23-25, 2007, at the Metropolitan Club in New York City. An invitation-only and cross-disciplinary event, it will unite 100 of the greatest minds and leaders from across the world.
The summit delegates will include heads of state, Nobel Prize winners, Olympic gold medalists, global CEOs and influential thought-leaders, who together will develop new solutions on trade, climate change, foreign policy, rule of law, education, Africa and the environment. From announcing new innovations to unveiling future research, the summit will provide a laboratory of thought for the world's leading minds, identifying new ways to allow organizations to develop and meet the new demands of globalization in the 21st century.
Delegates already confirmed are: Director-General of the WTO Pascal Lamy; Nobel Laureates Eric Kandel and Joshua Lederberg; CEOs Stephen Schwarzman of Blackstone, Mortimer Zuckerman of Boston Properties, Steve Ross of Related, Bill Roedy of MTV International and Richard Sambrook of BBC World; neuroscientists V.S. Ramachandran and Baroness Susan Greenfield; psychiatrist Oliver Sacks; political consultant and author Mark Penn; advertising gurus Harold Burston, Jack Leslie and Robert Greenberg; Internet entrepreneurs Jimmy Wales of Wikipedia and Craig Newmark of Craigslist; creative visionaries artist Tom Sachs, designer Calvin Klein and architect Richard Meier; actress and UN Goodwill Ambassador Julia Ormond; and founder of the MIT Media Lab Nicholas Negroponte. More delegates' names will be released in the coming weeks.
"Taking a holistic approach to this challenge -- emphasising cross-disciplinary and creative thought -- the summit stresses the importance of developing dialog, empathy and cultural understanding among different societies," said Louise MacBain, LTB Foundation Chairman and founder of the summit. "In a world of greater pace, intricate balance and significant threat, we require more dynamic and sophisticated ways of thinking and acting. Above all, the summit seeks to be a catalyst for their development."
A partnership project with the United Nations, the summit will be an exclusive peer-to-peer event where leaders share best practice, learn from one another and develop new partnerships. The official record of the summit will be used to influence organizations and agencies around the world.
All Global Creative Leadership Summit sessions will be open to the press. Members of the media interested in applying for credentials for the 2007 Global Creative Leadership Summit must use the following link on the summit's Web site to access the application: http://www.creativeleadershipsummit.org. All online applications must be completed by September 14, 2007. All members of the media wishing to cover the Summit must have credentials. For questions regarding the accreditation form, please call (212) 843-9301 or e-mail LeadershipSummit @ rubenstein.com.
For more information about the Second Annual Global Creative Leadership Summit and its focus on globalization, please visit http://www.creativeleadershipsummit.org.
About the Louise T Blouin Foundation
The Louise T Blouin Foundation, founded in 2004 by Louise T. Blouin MacBain, promotes culture and creativity and their role in making societies stronger. Recent foundation projects include an OECD research initiative measuring cultural investment across the globe and the development of a new institute in Notting Hill, London. The foundation has two main aims: (1) To encourage a better understanding of foreign affairs and culture beyond borders through international cooperation, exchange and dialogue for the 21st century; and (2) To explore the broader practical significance of creativity and the creative potential of the human brain.
Contact:
Rubenstein Communications, Inc.
Iva Benson
(212) 843-8271
ibenson @ rubenstein.com
# # #