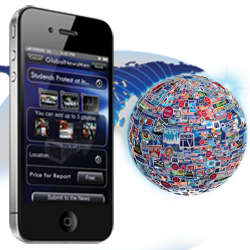 Brooklyn, NY (PRWEB) January 26, 2012
GlobalNewsmen, Inc. - a news content aggregation and delivery platform, announced the release of its updated iPhone and Android applications as well as a web platform that allows users to generate news reports, including video's, photos, voice or written commentaries, and location information in real time as events unfold. Using their smart phones, users can now choose from thousands of established news outlets and submit their news reports to local news, news providers in many countries, as well as to news channels and newspapers around the world in their own language.
GlobalNewsmen applications allow users to attach two videos, three photos, a voice commentary or interview, headline, location and text description to each report. Users can select to submit their reports with compensation or for free. In case no mobile network is available at the time a report is being made, users can store all data on their device and submit to the news when network connection is available. This allows users to record and save newsworthy content whether or not mobile network connection is available.
According to GlobalNewsmen co-founder and CEO Tigran Sahakyan, GlobalNewsmen will increase the flow of real time and relevant news materials to news outlets and will engage not only freelance journalists, but also the general public in the process of making the world news. "We have not just developed a platform for people to share news – we have created a tool which allows people of all countries to be part of the Global News. It is a mobile news reporting equipment for everyone to carry at all times. As to the news outlets, GlobalNewsmen gives the ability to report fresh and authentic news as they happen," he said.
Alex Dvorkin, co-founder and CMO of GlobalNewsmen, Inc. added: "For some, Globalnewsmen is a great way to monetize on the news material they gather and for others, like human rights organizations, our platform is the best way to get their voice heard. Be it a professional reporter, student journalist, photographer, blogger, or maybe an eyewitness to an accident, fire, crime in progress or natural disaster, GlobalNewsmen is the only tool one needs to be the first in reporting on the news as it happens."
If you would like more information or to schedule an interview with us, please call our offices at (718)891-8486 or email at info(at)globalnewsmen(dot)com.
###