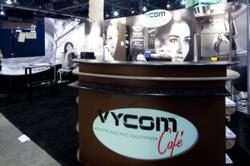 Scranton, PA (PRWEB) February 16, 2012
The Vycom Café is a perfect spot to take a java break at Global Shop, Feb. 29 - March 2 at the Sands Expo and Convention Center in Las Vegas. Check out the latest products from Vycom, such as the Designboard® Collection and get some inspiring display ideas while relaxing in a café setting. Just about every item in the café, from the counter and milk bar to the shelving and tables, are made with Designboard. Global Shop is the world's largest store display and visual merchandising show. Here are more Vycom booth details:

Designboard-- a designer line of rich colors and textures featuring trend-setting looks that have the toughness of HDPE with the brilliance of metal or natural look of wood. Low-maintenance Designboard is perfect for indoor or outdoor displays and cabinetry and features standard colors of Stainless, Bronze, Nickel, Java and Shale in various textures to add to their visual appeal. Additional dramatic colors and textures are available by special order, including Sequoia, Concrete, Onyx, Storm and Black. Available in various sizes and colors.
Celtec® Expanded PVC - printable, sharp, bold display graphics are perfect for outdoor or indoor signage. Available in various sizes and colors.
Sanatec® antimicrobial material - For store concessions or retail food outlets, the product is perfect for cutting boards and food and beverage surfaces. Available in an array of bold colors, and various sizes.
Vycom is committed to the environment and has established programs to recycle production scrap and waste with up to 100% post-consumer content. The material is also free of lead and heavy metals.
Come to the Vycom Café for free coffee and design ideas. Or, visit Vycom on the web at http://www.vycomplastics.com.
Vycom, a division of CPG International, is dedicated to maintaining an environment where quality meets performance. Vycom offers the largest range of products, capabilities and inventory for all Olefin and PVC needs. For more information, visit http://www.vycomplastics.com.
###