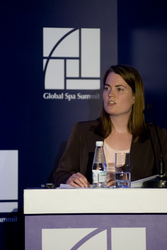 I've attended each Summit, and I've never felt such a sense of momentousness, energy and optimism - such a creative focus on the future and the big picture...
New York, NY (PRWEB) June 14, 2010
The Global Spa Summit, the premier annual event for the global spa and wellness industries, reported today that its recent conference held in Istanbul, Turkey was "sold out," attracting more top-level executives, from more nations (40), than in its four year history. Across the three-day conference, delegates were immersed in dozens of panels and presentations tackling critical industry issues and emerging opportunities for the worldwide spa and wellness sectors. And while research is a centerpiece of every Summit, the depth and diversity of research released in 2010 was unparalleled.
"The new research presented concurs that not only is the economic turnaround now re-energizing the global spa economy, but that a more extraordinary, long-term opportunity is looming: to dramatically expand our industry's stake in the massive health and wellness markets," noted Susie Ellis, Board Member of the Global Spa Summit. "I've attended each Summit, and I've never felt such a sense of momentousness, energy and optimism - such a creative focus on the future and the big picture - and such a shared willingness to break our industry 'out of its box,' and explore new models, new customers, new partnerships and new technologies."
2010 Summit Research Presentations/Powerpoints can be accessed at: http://www.globalspasummit.org/index.php/summit-2010/presentations
2010 Summit Research Highlights:
I) SRI International's "Spas and the Global Wellness Market " A groundbreaking report benchmarking the global wellness industry, analyzing consumer forces driving its growth, and how the spa industry can capitalize on the explosive consumer wellness revolution.
Key Findings:

"Wellness" is a vast, nearly $2 trillion global industry, comprised of nine core segments: 1) Spa ($60 bil) 2) Complementary & Alternative Medicine ($113 bil) 3) Healthy Eating/Nutrition/Weight Loss ($277 bil) 4) Preventative/Personalized Health ($243 bil) 5) Wellness Tourism ($106 bil) 6) Medical Tourism ($50 billion) 7) Workplace Wellness ($31 bil) 8) Fitness & Mind-Body ($390. bil) 9) Beauty & Anti-Aging ($679 bil)
There are 289 million active wellness consumers in the world's top 30 industrialized nations alone
81% of global consumers are "extremely" or "very interested" in improving their personal wellness
Top three things consumers are most likely to do to improve their wellness: (1) exercise, (2) eat better, (3) visit a spa
71% of consumers would be more likely to visit spas (and more frequently) if they learned that a series of research studies demonstrated treatments deliver measurable health benefits
II) Coyle Hospitality Research, "New Priorities of Today's Spa Consumers "
Survey investigating what currently drives consumers to spas; consumer Internet adoption and the impact of online information; and what "makes or breaks" the spa experience, etc.
Key Findings:
The #1 reason consumers visit spas (89%) is for relaxation/stress management, but a significant 34% report their spa-going has been driven by gifts. Coyle argues "there is possibly no other industry where gift certificate redemption is a primary driver of purchase."
*The primary reason spa consumers visit websites are to find spa deals (62%); view spa menus (57%); and read customer feedback (48%)

The top three online resources used by global spa consumers: SpaFinder.com (44%); Search Engines (43%); Facebook (25%)
There is a disconnect between consumer adoption of/openness to online spa booking and the number of spas providing that functionality. Among spa-goers, 47% have booked a massage online, and 89% "would," but only 30% of spas offer an online booking solution
Social media usage for sharing spa experiences is growing rapidly. 59% are now likely to email friends; 48% to write an online review; 41% to become a fan on a social networking site; and 37% to post on a social networking site
Consumers report their #1, most negative post-spa experience was being "in pain" (nearly 40%), followed by "did not feel relaxed" (roughly 32%)
88% of consumers report they would be comfortable receiving follow-up from a spa post-visit, with the #1 preferred method being an email from a manager inquiring about their satisfaction (83%)
III) Smith Travel Research (STR), "Latest in Benchmarking Hotels and Luxury Spas "
Key Findings:
Luxury hotel spas proved less vulnerable than their "room" equivalents during the recession: spa treatment room utilization actually grew 3.5% in 2009, while room occupancy dropped 8.7%. STR: "…the data indicates spas' ability to capture hotel guests as well as attract a local audience…"
Luxury hotels show clear signs of recovery: with occupancy up across every global region in Q1 2010. (The U.S. is up 2.2% vs. -8.8% in 2009; Europe is up +4.1% vs. - 6.4% in '09; Asia-Pacific up +11.1% vs. -6.7% in '09)
The Q1 2010 luxury hotel Average Daily Rate (ADR) is also up across all global regions - with Asia-Pacific leading the way with an 11% gain. (Europe and the U.S. experienced more modest ADR gains as discounting continued)
Both spa treatment rates and treatment room utilization trended up in Q1 2010 (over the last nine months of '09), but discounting continues: the average luxury hotel spa treatment declined from $149 in '08 - to $142 in '09 - to $136 in 2010 (Q1 comparisons)
Luxury hotels with spas continue to have a significant ADR advantage: a $55 average premium over hotels without spas
There are numerous bright signs that hotel salon services are trending towards a strong year. Revenue-per-service is up ($61 in 2010 vs. $58 in 2009). Salon services are up roughly 4% this year vs. a 6% decline in '09. Salon utilization has jumped from roughly 17% in Dec. 2009 to nearly 25% by Mar. 2010.
IV) Euromonitor International, "The New Consumer Mindset" Analyzes broader global economic data, with a focus on key post-recession consumer trends. Data on how the economic downturn did not derail, but rather accelerated, health and wellness markets, with consumers now poised to significantly increase adoption of/spend on healthy food/products, spa-going, medical tourism, anti-stress and weight loss therapies, etc.
Key Findings:
From 2009-2014, global consumers will spend an additional $130 billion on health/wellness food and beverages
Nutraceutical sales reached $236 billion in 2009
Latin America will generate 1/3rd of the global beauty/personal care market's absolute growth in the next 5 years - overtaking North America by 2011
The world is growing older: by 2020 more than 15% of the U.S., Australian, Canadian, and UK populations will be 65-plus, and that figure jumps to 20%-plus for France, Italy, Germany and Japan. (In ten years, nearly 1 in 3 - 29% of - Japanese people will be over 65.)
45% of the skin care market's absolute growth by 2014 will come from anti-aging products
Spa travel packages outperformed retail travel in a tough 2009 - and spa travel will grow roughly 4% each year in 2012, 2013, and 2014
V) Ernst & Young, "Middle Eastern Spa Benchmarking, 2010" A new research initiative analyzing key performance indicators for the evolving Middle Eastern/North African spa market.
Key Findings:
While Dubai/the UAE represented one of the hardest hit regions in the global recession, the hotel spa economy started roaring back in late 2009. Aggregate spa revenues in Q4 2009 were 48% higher than in Q1 2009, and Q1 2010 revenues are up 45.5% year-over-year. In Q1 2010, spa treatment revenues spiked 70%, and treatments booked jumped 62% (year-over-year)
UAE/Dubai hotel spas did an extraordinary job attracting local guests in a tough '09: non-hotel guests accounted for nearly half (47%) of spa visitors last year, and fitness and membership revenue drove 37% of total spa revenues. (But the hotel guests are returning in 2010, representing 61% of spa visitors in Q1.)
VI) Summit Delegate Survey: Live poll of executive attendees on the current performance and future directions of their companies and industry.
Key Findings:
In 2009, the recession's toughest year, 47% of spa and wellness industry respondents reported revenue gains over '08, with another 17% reporting they held steady. (Only 37% clocked declines)
51% report they've actually expanded their business within the last year
79% estimate their revenue will increase in 2010: 36% predicting it will be "up significantly," and only 6% expecting declines
83% report the economic turnaround is now having a direct, positive impact on their business
But the industry remains cautious about when the global economy might return to pre-recession levels: 81% don't predict that to transpire until 2012 or beyond, with 10% reporting "never"
"Definitions/Standards/Best Practices" challenges rank as the #1 problem facing the global spa industry today (27%), and for the second consecutive year. Followed by "training and education" (15%) and "lack of professionalism" (15%)
Delegates (by significant margins) report that "a preventative healthcare/wellness focus" will have the most influence on their business moving forward (45%); followed by the Internet/new technology (26%); and the aging, global population (23%)
At the Summit's culmination, delegates formally identified the most critical issues and opportunities now facing their industry:
1) Exploit the extraordinary, emerging opportunity to become a far more powerful player in the vast healthcare and wellness markets
2) Aggressively marshal and communicate the mounting archive of evidence-based data about the real medical benefits of the spa/wellness industries' various approaches
3) Intensify the focus on emerging new technologies, Internet platforms and social media
4) Embrace greater differentiation (less homogeneity): focusing businesses on authenticity, indigenous/local uniqueness, while moving toward a far more personalized and relationship-based customer experience model
For more information on the 2010 Summit, or research released, contact Beth McGoarty: (+1) 213-300-0108 or beth(at)rbicom(dot)com
About Global Spa Summit:
The Global Spa Summit is an annual event that attracts top-level executives and leaders from around the world with interest in the spa and wellness industry. Delegates from diverse sectors, including hospitality, investment, finance, real estate, medicine, manufacturing, technology, consulting, product, and other related industries attend this intimate, high-level gathering focused on advancing the spa and wellness sectors. With increasing attendance by delegates from more countries each year, the Global Spa Summit attracted representatives from 40 nations in 2010.
###