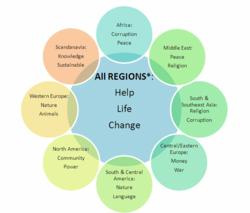 Some will see these results...and believe it is the collective consciousness of our world emerging.
(PRWEB) October 11, 2012
A new report has found stark regional differences in people's global priorities. Yet, the most consistent finding across all world regions is that people want change. The report was authored by members of Big,ML inc., Optimus Info, Inc. and A Big Project , who sought to work together to gain clarity on where people's ideas about a better world differed and where they aligned. The report is based on the preliminary findings of a survey that began on August 15th and closed on September 20th. The survey asked people from every region of the globe four questions:
If the world as it currently exists were to radically shift tomorrow, and we had an opportunity to recreate the world:

What would you NOT want to continue from this world?
What WOULD you want to continue from this world?
What could people do differently now to help us get to that better world?
What is one thing that you will commit to do differently now to help us get to that better world?
In one month, 1274 people from 97 countries responded. The report provides early findings of these answers and can be found at http://www.abigproject.org/results.
Selected Findings
Findings are based on a key word search, looking for the words which occurred most often in each region. These words signify the ideas that are being thought about most often, or are felt most strongly in the region.
Corruption in Africa
Power in North America
Sustainability in Scandinavia
Religion in the Middle East and South Asia
Nature in South America
Animals in Western Europe
Money in Eastern Europe
*Scandinavia was separated from Western Europe because of a disproportionately high sample size, and its specific cultural practices. Australia/Oceania and East Asia were omitted due to low sample size.
In spite of these regional differences, there was one overarching finding that pieced together a theme found across all regions. The top 3 words that were found to be consistently high across all world regions (in order of recurrence/importance) were:
HELP - LIFE - CHANGE
To see the methodology used in the analysis or the graphic representations of the data, please download the report at http://www.abigproject.org/results.
A Big Project seeks to use data to support more clarity about our regional differences and areas of agreement, and to share the data in ways that will reach people's hearts.
Starting today, the project will be working with Arts for Peace and creative people around the world express the findings in ways that can move people's hearts – through art and music. The effort will use the findings "Help Life Change" to spur a global renaissance of creativity on December 20, 2012.
"Some will see these results and assume coincidence. Others might believe it is the collective consciousness of our world emerging. The authors are neutral. But either way, the results highlight an important idea: when we all work together, we have the power to help life change. Artists and musicians will be bringing that idea to life in December."
-Dara Barlin, A Big Project (co-author of the report)
"A Big Project offers a way to participate in global conversations and appreciate the artistic expressions emerging from those conversations. I expect creative inspirations that will help each of us to 'Help Life Change' at this special time in history."
-Monica Willard, President, Committee of Religious NGOs at the United Nations
Due to high levels of demand, the four global questions survey will re-open this week and remain open until December. The survey can be taken at http://www.abigproject.org/myanswers. Art and music development are starting immediately.
Additional findings of the report confirmed already long held beliefs about global priorities. If we had the opportunity to recreate the world, the three things most people would NOT want to continue include war, poverty, and corruption. The top ten things people would want to keep include love, peace, nature, technology, music, art, culture, education, diversity and freedom.
When it comes to making the world a better place, men around the world say that technology, democracy and language are key ingredients. While women say that love, food, care and community are most critical.
About A Big Project
A Big Project is an all-volunteer effort of organizers from every region looking to find out where we all agree – and sharing the news in ways that will open people's hearts. http://www.abigproject.org
About Arts for Peace
Arts for Peace is 501 (c) (3) charity that seeks to mobilize the arts community in support of peace-building. http://www.unafp.org