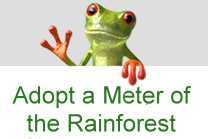 Precious Biodiversity -
25% of the plants used in medicine come from the rainforest
Los Angeles CA (PRWEB) May 11, 2011
Cuipo, a social enterprise established to protect the world's endangered rainforest, today announced a new partnership with Coco Eco Magazine, an eco-chic lifestyle magazine celebrating sustainable fashion, beauty, and social causes, to adopt a meter of rainforest and understand more about carbon footprint calculation, global warming education, and awareness.
Coco Eco Magazine readers can visit Cuipo.org to adopt a parcel of the rainforest, calculate their carbon footprint via the online calculator, and learn how to "Go Green" with Cuipo's green lifestyle coaching tips.
"Coco Eco is thrilled to collaborate with Cuipo to extend awareness of this organization's powerful message and offer readers a meaningful way to help preserve the rainforest," said Anna Griffin, Founder and Editor-In-Chief, of Coco Eco.
Magazine readers and subscribers can access a customized landing page - http://www.cuipo.org/cocoeco designed especially for Coco Eco. From here users can participate in rainforest adoption and learn about "green" living strategies.
"These new Cuipo partnerships are designed to fight global warming, protect our endangered rainforests, and cultivate sustainable living," said Cuipo co-founder, Michael Fetyko. "We're thrilled to add Coco Eco to our growing roster of organizations that are committed to tropical rainforest preservation with us."
Cuipo's rainforest preservation - global warming initiative is centered around the adoption of rainforest land to allow for preservation in perpetuity. Cuipo's goal is to cultivate significant rainforest preservation through an affordable method that everyone can participate in. Cuipo uses the proceeds from adoptions to acquire endangered rainforest land, employ local workers and indigenous groups to monitor the preserved land, as well as design education and awareness programs aimed at creating sustainable and economically beneficial lifestyles.
About Cuipo
Cuipo is a social enterprise that advances its mission of protecting the world's endangered rainforest. It provides global warming education and awareness programs that inspire individuals and organizations to cultivate lifelong habits for sustainable living. This mission is accomplished through innovative Web-based technology, family-oriented educational materials, and the ongoing search for easier ways to make environmental activism accessible to all. Education and awareness is a start, but it's not enough. The only way to ensure the preservation of endangered rainforest land is to acquire it and set it aside for permanent preservation and monitoring. The Cuipo Initiative pools the contributions of individuals and corporate partners and purchases large swaths of land, which are then transferred to its nonprofit foundation, 1 Meter at a Time, for permanent preservation.
# # #