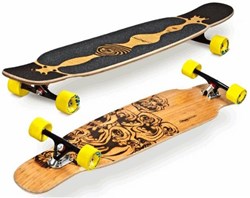 Greenville, SC (PRWEB) May 30, 2013
GlobeLongboards.com is a great place to find top quality longboards from amazing prices. Recently, they announced massive changes to their system that will make their shopping experience much more user friendly and easier to find the right products. They sell longboards, helmets, slide gloves, and other great longboarding gear for prices that no competitor can beat.
GlobeLongboards.com also maintains a blog that offers great advice, tips and tricks to help longboarders get more out of each session. They give great tips like How to Waterproof a Longboard Deck, How to Clean Trucks, Wheels, and Bearings, and tons of other useful information. Also available at GlobeLongboards.com are detailed and unbiased Longboard Reviews. Each review at GlobeLongboards.com is written by a real longboarder who gives a detailed analysis on the pros and cons of each longboard. They discuss what type of boarding each setup is best for, and they give their unbiased conclusion on each board with a star rating.
The guys at GlobeLongboards.com are all longboarders, and they love helping new crowds into the longboarding scene. Any beginners who are looking for advice on how to learn to longboard, how to choose their first board, and tons of other topics will find what they are looking for in GlobeLongboards.com.
About GlobeLongboards.com
GlobeLongboards.com was established with the idea that beginner boarders and veterans alike needed a place to find unbiased reviews of all the popular decks, a place to get great boards and gear at discount prices, and a place to find advice, tips, and tricks that other longboards will share. They sell a wide variety of name brand boards for low prices, and they also sell helmets, slide gloves, and other longboarding gear and hardware. To learn more about GlobeLongboards.com, or to find just the right new board, visit http://www.GlobeLongboards.com today. After that, get off the web and back on the board!