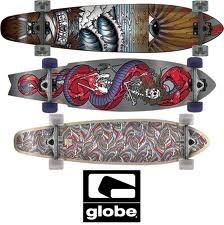 Greenville, SC (PRWEB) December 02, 2012
Longboarding used to be the unknown little brother of skateboarding, but over the past few years it has grown into a sport that has something to offer for everyone. From an extreme sport, to a leisurely pastime, and even a method of travel, longboarding has evolved into a massive market with hundreds of longboard manufacturers. For those looking into buying their first longboard, a new website, http://globelongboards.com/ consistently gives new information on longboarding and detailed, unbiased, reviews of beginner to professional quality boards.
It is difficult to find quality longboards for good prices. There are many boards that are cheaply constructed or overpriced. For someone looking into boarding for the first time it is dangerous to spend too much money on a board that you don't know if you can trust. GlobeLongboards.com was specifically created to supply boarders with unbiased reviews of popular longboards and help everyone find just the right longboard for them. The site also has blogs for those who want to learn to longboard and tips for beginners. "I've loved longboarding for forever, unlike normal skateboarding you don't have to be incredible at tricks to be accepted into the boarding community. Longboarding really does have something to offer everyone. I have seen children as young as eight years old learning to board, and adults into their fifties using longboards for exercise or city transportation. I love sharing longboarding with others so I wanted to create a website to help beginners get started. I noticed that the most common question is what board should someone get. So I started GlobeLongboards.com to supply my readers with unbiased longboard reviews and a beginner's guide." -Kevin Reno, Owner of GlobeLongboards.com
GlobeLongboards.com announced recently that they would soon be fully redesigning their site. They will continue to review boards and add to their beginner's guide, but they will also begin to sell discount priced boards online. All of the boards reviewed by GlobeLongboards.com as well as many others from various brands will be available to buy from their site. "I'm so excited to start selling longboards from GlobeLongboards.com. I think people will love to be able to buy new boards from the same place that reviewed them." –Kevin Reno, Owner of GlobeLongboards.com.
About GlobeLongboards.com
We at GlobeLongboards.com want to provide everyone with detailed, unbiased reviews of popular longboards and longboarding gear. We are all longboarders ourselves and love to help out beginners and welcome them into the longboarding family. We have reviews, beginner tips, and videos to view on our site. We are also very excited to announce that we will soon be offering new longboards for sale at discount prices on GlobeLongboards.com.