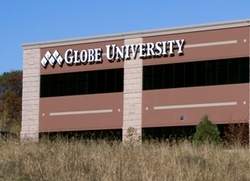 Eau Claire, WI (PRWEB) October 29, 2008
Globe University will celebrate the grand opening of its Eau Claire campus on Thursday, October 30, 2008 from 11:30 a.m. to 1:30 p.m. at 4955 Bullis Farm Road. There will be a ribbon-cutting ceremony by a representative of the Eau Claire Area Chamber of Commerce at 12:00 p.m. and addresses from a member of the Eau Claire City Council and Campus Director Shana Weiss.
Other events include a live radio remote, a Wii bowling competition, a drawing for one free course at Globe and campus tours. Representatives from the campus admissions and education departments and current students will be on site to answer your questions. A light lunch and refreshments will also be available. Please join us!
About Globe University:
Globe University was established in 1885 by a German educator , Frank Maron, to fill the need for practical education for young men and women. Owned since 1972 by Helmer and Terry Myhre, the school has expanded its offerings from business education to include information technology, legal science, creative production and health science programs. It offers bachelor, associate and MBA degrees and diplomas. The Eau Claire campus at 4955 Bullis Farm Road, Globe's first Wisconsin location, opened its doors on July 1, 2008.
From its inception, the school has focused on teaching skills for the real world. Students work in a hands-on environment and class sizes are small. The university is committed to integrating general education with core career curriculum, providing knowledge and skills that support students' employment goals. Personalized career placement services assist students and graduates in achieving their professional goals.
###