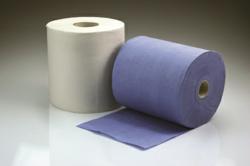 London, United Kingdom (PRWEB) November 27, 2012
Better standards of hygiene are always on the agenda for dentists, GP surgeries, care homes, nursing homes and other institutions whose mission statement is provide excellent healthcare in a safe and comfortable environment. The new paper products in The Glove Club's range are central to the fight against infection. Centrefeed rolls, couch rolls, facial tissues, hand towels, toilet rolls and more are now available from the online store at http://www.gloveclub.co.uk.
Disposable paper products are vital to maintain a safer and more hygienic atmosphere within healthcare institutions and they perform a dual role to this end. They prevent surfaces from coming into contact with the germs and bacteria responsible for the spread of infection and they ensure that those germs and bacteria are caught and disposed of according to the proper procedures agreed on by the professionals.
Such paper products represent the ideal addition to the range at The Glove Club where customers can already buy different varieties of gloves, cleaning chemicals, masks and hygienic clothing. The aim is to give customers in the healthcare industry every opportunity to succeed in the refinement of their hygiene standards.
About Glove Club Ltd
The Glove Club has been a manufacturer, wholesaler and distributor of medical grade disposable products since 1994. Its experience and expertise of supplying products to a wide range of customers makes it a cut above the rest. In its 18 extensive years of business they have been a leader in latex, nitrile and vinyl gloves, all made to a medical grade (AQL 1.5) and many everyday disposables like masks, paper towels and aprons. They supply to dental practices, nursing homes, funeral directors, veterinaries, hospitals, GP's and even the general public.
Users of disposable consumables can contact The Glove Club on 0500 456 832 or by accessing the new website at http://www.gloveclub.co.uk.
Manoj Parmar, Marketing Manager
Glove Club Ltd
+44 208 991 4303
http://www.gloveclub.co.uk