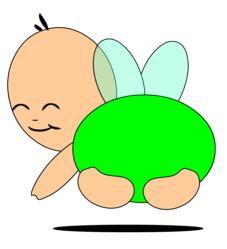 Barrie, ON (PRWEB) June 27, 2013
There is lots to celebrate over at Glow Bug Cloth Diapers. Not only has Glow Bug invented the Revolutionary 360° Gusset Diapers and are coming out with new prints in the Glow Bug Uni package but they have recently hit 10,000 Likes on Facebook. To celebrate this achievement, Glow Bug is running a 10,000 Likes Fan Appreciation Giveaway that will run until June 29th.
"What allows us to make the best cloth diapers is the fact that we have the most loyal fans and customers. It's our pleasure to be able to do this giveaway for them" said Sarah Downey, co-owner and co-founder of Glow Bug Cloth Diapers.
The giveaway has lots of prizes from a variety of sponsors including a nursing tank from the The Naked Nursing Tanks, an Arden All-in-One Bra from The Dairy Fairy, a Spray Pal, a Variety 6 Pair Pack from Bamboobies as well as 10 Glow Bug Cloth Diapers. To enter to win go to http://www.glowbugclothdiapers.com/#!10000-likes-giveaway/c1wtl or to Glow Bug Cloth Diapers' Facebook page at; https://www.facebook.com/glowbugclothdiapers/app_228910107186452 Contestants can gain entries by liking the sponsors on Facebook, following them on Twitter and Pinterest, tweeting about the giveaway among other options.
The winners will be chosen after the giveaway closes at 11:59 EST on June 29th and will receive confirmation emails from the prize sponsors within a few business days. The giveaway is open to residents of Canada and the United States.
Glow Bug Cloth Diapers is based out of Barrie, Ontario and has been in business since early 2011 manufacturing and selling cloth diapers. Glow Bug Cloth Diapers is best known for offering pocket cloth diapers that are high-quality, easy to use, fashionable and affordable. Glow Bug Cloth Diapers are one-size and fit babies from newborn to potty training so parents never have to buy diapers again, making them high-quality yet cheap cloth diapers.