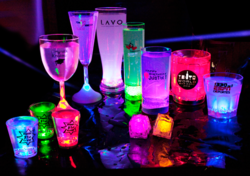 These are a perfect addition to formal events such as weddings and cocktail parties.
Los Angeles, CA (PRWEB) January 31, 2013
With the growing popularity of customized party supplies at bar/bat mitzvahs, sweet 16's, birthday and graduation parties and church and school events, Glowsource.com has made it easy and affordable to take that special party or event to the next level.
For people looking to add a personal touch to their parties, Glowsource.com, online retailer of all things glow-in-the-dark and LED, has launched their custom printing on glow in the dark products.
Unlike its competitors, Glowsource.com's printing is free with a minimum order. They are also willing to print on smaller quantities of party items, which most companies don't offer. Another great perk is the short turn around time on the customized products.
Take a look at 5 of the most popular custom print party supplies for party planners who are customizing for their parties and events:
Glow in the Dark Beach Balls – Great for tailgating or outdoor events, pool parties, or even fun corporate events, a logo on a beach ball is a really unique way to showcase a company, sports team, or special birthday person.
Light Up Champagne Glasses – These are a perfect addition to formal events such as weddings and cocktail parties. Party planners are able to offer a customized party favor to guests that can also serve as a souvenir.
Light Up Ice Cubes– Lighted ice cubes have become very popular for corporate events and bar/bat mitzvahs for use in centerpieces, drinks and decorations. These are a great way to advertise and a nice keepsake for all who attend.
Light Up Foam Sticks – These have become a must-have at concerts and outdoor events. The lights shining in the foam stick truly enhance a logo and transform the party into a wild occasion.
Liquid Activated Shot Glass – As if these shot glasses that have LEDs activated by liquid weren't already unique, adding a special name will really up the ante for birthday parties and any other occasion to celebrate.
For custom print inquiries contact whitney(at)glowsource(dot)com.
About Glowsource.com:
Glowsource.com strives to provide customers with a wide range of one-of-a-kind glow and light up products for making parties a memorable success. Offering wholesale/bulk and discounted prices, Glowsource.com is a complete one-stop shop for must-have glow and LED items for NYE 2013.
Established in 1999 with the introduction of "Cool Glow" drinkware, Glowsource.com has since been bringing customers the latest lighted and glow party supplies to make parties tremendous fun. With 13 years experience and superior customer service, Glowsource.com is the ultimate glow party supply shop!
Contact:
Glowsource.com
Whitney Callahan
(323) 878-1280
whitney(at)glowsource(dot)com