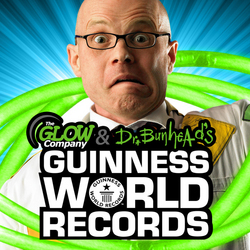 The proposed glow in the dark necklace will be one thousand feet long and one hundred audience members will be invited to take part in the record breaking attempt.
(PRWeb UK) February 15, 2011
The Glow Company and TV's most extreme scientist Dr Bunhead (Brainiacs and Blue Peter to name but a few) are teaming up on Saturday April 9th in a record breaking attempt to create the World's largest glow necklace.
The fantastic glowing spectacular is to take part during Dr Bunhead's performance at 2pm at the Usherhall in Edinburgh as part of the Edinburgh International Science Festival and International Year of Chemistry, and The Glow Company and Dr Bunhead are inviting one hundred lucky audience members to become real record breakers by taking part in the attempt.
Guinness World Record staff will be eagerly on stand by to officially adjudicate the event from which they're expecting the one thousand foot glow-in-the-dark necklace to set a brand new record. The glowing giant will wrap around Dr Bunhead and the lucky audience members several times proving itself to be the ultimate party accessory. Imagine the intensity of glow light that would be produced by such a huge achievement!
Make sure you're part of the audience for this hands-on lesson in chemiluminescence. See science come to life as the giant glow necklace is activated right before your very eyes! What's more, The Glow Company will be handing out souvenir glow necklaces (a little smaller than the record breaker!) and a six inch glowstick to each lucky participant so that they can remember their part in this incredible record attempt.
Tickets for the record breaking event are available from directly from Usherhall and The Glow Company has four tickets to give away to one lucky winner! Simply make sure that you're available to take part in the event on Saturday 9th April and go to http://www.glow.co.uk to find out more.
###