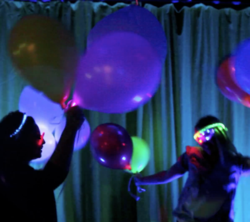 I've ordered the light up champagne cups every year for 5 years to take on a New Year's Eve trip to Paris; they're always a huge hit!
Los Angeles, CA (PRWEB) December 13, 2012
Each year, New Year's Eve bashes are getting bigger and better than ever before. For those party planners looking to up the ante, Glowsource.com has released a list of unique party supplies essential to making this New Year's Eve a glowing success.
Since unique party supplies and LED novelties are key throwing an exclusive New Year's Eve party, Glowsource.com has specifically chosen cutting-edge products to offer on the site. From cool glow products to light up party favors, Glowsource.com provides a variety of party items that will have guests impressed.
According to one recent customer, Donna Chulack says, "I've ordered the light up champagne cups every year for 5 years to take on a New Year's Eve trip to Paris; they're always a huge hit!"
Here's a look at 11 of the hottest glow-in-the-dark party supplies that will add cheer to any New Year's Eve party:
Light Up Balloons – A new and highly popular product, these LED balloons flash and blink, letting guests know they're surely at an elite New Year's party!
Light Up Ice Cubes – This "cool" ice cube lights up and adds dazzle to any drink! With freezable gel inside it'll actually keep drinks cold, while putting the icing on the party at the same time!
Glow Eyeglasses – Hip eyeglasses take on a new meaning when they glow. Seven different color choices will fit any party theme add a certain glow to everyone's eyes!
Color Changing Decorative Orbs – Not only do these orbs have nine lighting modes, but they also float in water! These are definitely one of the coolest lighting decorations you can have at a party!
Fiber Optic Centerpieces – Add a nice ambience to your event with a 13-inch tall centerpiece that fades through beautiful colors!
EL Wire Decorative Lighting – Think of anything that needs a little lighting added to it and this six foot long, flexible rope is the answer!
Liquid Activated Flashing Shot Glasses – Flashing lights add even more excitement to this shot glass than the liquid that's already contained in it. Simply pour liquid in to see the colors ignite!
Atomic Glow Tumblers – Neon is in, and that's just what these glow tumblers are! This cup really electrifies a drink!
LED and Glow Beach Balls – Hang them, hit them around or float them in a pool. Glow beach balls add an element of fun that was always missing before these unique glow balls came along!
Light Up Foam Sticks – Flashing, blinking and fading, this LED foam stick has it all. Wave it at concerts, clubs, or get all the attention at the hottest New Year's Eve party!
Light Up Champagne Cups– New Years just isn't complete without the bubbly and these champagne glasses add multiple, bright colors of light to party drinks!
About Glowsource.com:
Glowsource.com strives to provide customers with a wide range of one-of-a-kind glow and light up products for making parties a memorable success. Offering wholesale/bulk and discounted prices, Glowsource.com is a complete one-stop shop for must-have glow and LED items for NYE 2013.
Established in 1999 with the introduction of "Cool Glow" drinkware, Glowsource.com has since been bringing customers the latest lighted and glow party supplies to make parties tremendous fun. With 13 years experience and superior customer service, Glowsource.com is the ultimate glow party supply shop!
Contact:
Glowsource.com
Whitney Callahan
(323)878-1280
whitney(at)glowsource(dot)com