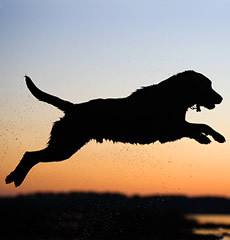 Keep Them Agile with Glucosamine and Chondroitin
Anoka, MN (PRWEB) June 29, 2012
Much like humans, pets require a daily amount of nutrition that is often not attained in food alone and joint support and mobility are no different. The Pet Natural product line of vitamins and supplements that contain glucosamine and chondroitin are available in soft chew treat form and tablets.
The HIP+JOINT EXTRA STRENGTH is a potent combination of joint support factors including Glucosamine, Methylsulfonylmethane (MSM), Chondroitin Sulfate, Manganese and Ascorbic Acid (Vitamin C). These naturally occurring substances provide the building blocks for supporting healthy joint and connective tissue functions. The results combine to support mobility, exercise tolerance and comfort
DogWhatever.com also offers Skin + Coat soft chews which aid in maintaining a healthy coat and Calming soft chews to help your dog or cat mellow out. According to product research, milk protein and amino acids are credited with having a rapid calming effect in pets. While results for the Hip + Joint formula may take up to thirty days, the Calming formula takes effect in as little as twenty minutes.
About DogWhatever:
DogWhatever.com is a subsidiary of DLS Solutions, LLC based in Minnesota; "Land of 10,000 Pets" DogWhatever understands that pets are a part of the family. This website was started for the pet owner; a place to purchase vitamins and supplements that they so deserve and to treat them to fun and necessity items. Feeling secure in ordering and in the products is important so DogWhatever.com has a 30 day money back guarantee and a secure website for safe and easy ordering.
Whatever They Need... Whatever They Want... DogWhatever.com
Visit http://DogWhatever.com for the complete line of Pet Products.
DogWhatever
619 Weaver Blvd
Anoka MN 55303