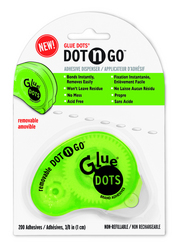 The panel praised Glue Dots for ease of use for children, "It was motivating to use because it was easy for a child to manipulate. It was also cleaner to use."
New Berlin, WI (PRWEB) February 24, 2010
After receiving top ratings in two rounds of rigorous judging, Glue Dots International's Removable Dot N' Go (TM) has been named a 2010 winner of the Learning Magazine Teachers' Choice SM Award for the Family. For 16 years, the Learning Magazine Teachers' Choice (SM) Awards have showcased the very best in classroom-tested, teacher-recommended products. Each year a nationwide panel of teacher-judges names the best in educational supplies, books, games, software, websites and more…everything needed for education at home or in the classroom.
Teachers evaluate the products on educational value, originality and creativity, ease of use, safety, durability, high-interest level and motivation for children. The teacher-judges found the Glue Dots® Removable Dot N' Go (TM) to be an exceptional product. "Glue Dots successfully bonded paper and plastics. We also used it for adhering materials to walls. They were removed without messing up the surfaces where they were adhered."
Only those products that meet teachers' stringent standards are chosen. The panel praised Glue Dots for ease of use for children, "It was motivating to use because it was easy for a child to manipulate. It was also cleaner to use." Teachers' Choice for the Family is the only awards program that requires panel evaluators to be both a teacher and a parent. Evaluators also recommend the Dot N' Go for home use, "I would definitely recommend it to other parents. It is a great way to glue things without making a big mess. It is easy, clean and convenient to use."
What sets the Dot N' Go apart from other adhesive products is the strength of the Glue Dots it dispenses. The Dot N' Go can dispense one or more Glue Dots precisely, making it ideal for any material and any project. Glue Dots® products are widely used by consumers for craft, school and home projects because they bond instantly to virtually any surface including paper, plastic, glass, textiles, metal and wood.
To learn more about Glue Dots® products visit gluedots.com or find us on Facebook. Glue Dots International, founded in 1995, revolutionized the adhesive industry with its easy-to-use pressure sensitive products. The company holds several patents and continues to lead the industry in the development of new, efficient adhesive products for consumer, industrial and specialty markets. Glue Dots International, headquartered in New Berlin, Wisconsin, has operations in the United States, United Kingdom and Asia.
###