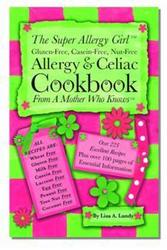 All in all, the studies published in the last two years provide significant evidence that there are real health benefits provided from a gluten-free diet for individuals other than with clinical celiac disease
Buffalo, NY (Vocus) September 29, 2009
The gluten-free market has continued to grow despite a significant downturn in the economy reports SPINS®, a market research company in the natural products industry, in a March 2009 news release. With the sizzle and explosive growth in the gluten-free market, comes a new debate on the medical benefits to consumers for such a diet. Recent media articles have stated that there is no scientific benefit for a gluten-free diet except for individuals with celiac disease and gluten sensitivity, which leaves some consumers wondering what to believe. To put an end to the medical debate on the scientific evidence and merits of a gluten-free diet, motivational speaker, cookbook author and mother, Lisa A. Lundy turned to Laurette Janak for help. As a past Autism One Conference presenter and parent-researcher, Laurette Janak knows how to conduct medical research. In fact, at the 2009 Autism One Conference, Janak gave a lecture on how to a medical search, which is now available at no charge to mainstream consumers on the Autism One website. Lundy then interviewed Janak on the Science Behind the Gluten-Free Diet for her Autism One Radio program, which you can listen to for free on line at: http://www.AutismOne.org. In addition to the Two-Part Autism One Radio program - a total of one hour in length - Lundy has compiled a list of 19 of the studies, which are available free from her website, http://www.TheSuperAllergyCookbook.com .
Historically clinical guidelines for diagnosis for celiac disease included a positive blood test followed by an intestinal biopsy. Individuals with a positive blood test result but a negative biopsy were thought to be negative for celiac disease. Recent studies (Kurppa K 2009 et al, Ludvigsson JF 2009 et al) have shown individuals with latent celiac disease - positive blood test results but no villous atrophy or intestinal damage - benefit from a gluten-free diet. Additionally, a 2008 study by Koskinen et al provides further evidence of the efficacy of a gluten-free diet in individuals without celiac disease.
With 693 papers published in PubMed, a service of the U.S. National Library of Medicine and the National Institutes of Health - 275 papers on Atypical celiac disease, 239 papers on silent celiac disease, and 175 papers on latent celiac disease - there is an abundance of medical literature on this topic. A 2008 study by A. Vojdani, et al indicates that other organs well beyond the gastrointestinal system can be affected by gluten sensitivity including the joints, heart, thyroid, bone, brain cerebellum and neuronal synapsins. Vojdani also reports that gluten sensitivity has been associated with neurological disorders including: cerebellar ataxia, epilepsy, myoclonic ataxia, chronic neuropathies and dementia, and the "softer" and more common neurologic disorders of chronic headache, developmental delay (autism), hypotonia and learning disorders or ADHD.
A 2009 study by Alberto Rubio-Tapia et al indicates that during 45 years of follow-up, undiagnosed celiac disease was associated with a nearly 4-fold increased risk of death. The same study reports that the prevalence of undiagnosed celiac disease seems to have increased dramatically in the same time frame. In the U.S., the University of Chicago, Celiac Disease Program estimates that 97% of the individuals with celiac disease are currently not diagnosed. "All in all, the studies published in the last two years provide significant evidence that there are real health benefits provided from a gluten-free diet for individuals other than with clinical celiac disease" Lundy stated. "What is critically important is that consumers see a physician and get tested for celiac disease prior to starting a gluten-free diet"
Lundy is a proponent of consumers and parents becoming educated and doing their own medical research, if necessary, because it was Lundy's own medical research that helped to save her daughter Anne's life. Lundy is the author of the highly-praised book - The Super Allergy Girl™ Allergy & Celiac Cookbook, a gluten-free, dairy-free, egg-free and other allergen free cookbook and resource. She has created a content-rich website - http://www.TheSuperAllergyCookbook.com - with an extraordinary amount of free resources to educate and support consumers and professionals. Lundy's three children all have food issues including celiac disease and IgE mediated or life-threatening food allergies. Registered Dietitians and health providers attending the American Dietetic Association Food & Nutrition Expo in Denver, Colorado in October can stop by Lundy's booth for more information.
Size: 6" x 9"
Pages: 405 pages
Soft Cover, Perfect Bound
ISBN#: 978-0-9797542-0-3
Price: $28.95
Contact: Ms. Lisa Lundy
Phone: (716) 835-6392
###