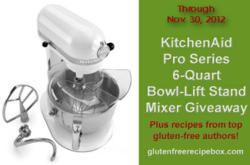 Fresno, CA (PRWEB) November 02, 2012
One of Carla's specialties is gluten free bread baking, though she offers a variety of over 500 gluten-free recipes on her blog. Gluten Free Recipe Box has fulfilled the needs of hundreds of thousands of online visitors. Ms. Spacher, finds that "The power of a KitchenAid stand mixer can be quite handy in gluten-free baking, and especially with bread. Its high-powered motor enables more air to be whipped into batters and dough, creating lighter baked goods." With the higher cost of gluten-free products, this KitchenAid Mixer Giveaway and Gluten-Free Recipes Event is Carla's holiday gift to all those on a gluten-free diet. For her regular readers, as well as those who desire superior gluten-free food, this her way of showing her appreciation. Participants in the giveaway have a chance to win a Professional Series KitchenAid Stand Mixer.
Per KtichenAid, "Made for cooks who think big, the Professional 600 Series™ stand mixer is equipped with a high-performance, professional-level motor and a 6-quart polished stainless steel wide-mouth bowl. The 575 Watt Motor provides enough "flour power" to effectively mix up to 14 cups of all-purpose flour per batch. The mixer includes a pouring shield, dough hook, flat beater and wire whip, and is currently available at a suggested retail price of $569.99." It's perfect for bakers on a gluten-free diet.
Many Americans are beginning a gluten-free diet every day. Gluten Free Recipe Box provides delicious gluten-free recipes and information to meet their needs, from gluten-free baking tips and articles on celiac disease and gluten intolerance, to giveaways and the latest news and resources. Join this event from November 1 - 30, whether you are gluten-free or not, as many people who are not gluten-free enjoy Carla's recipes, as well as the contributing authors'.
Gluten Free Recipe Box revolutionized gluten-free blogging with the addition of multiple allergen-free categories such as dairy-free, soy-free, corn-free, nut-free, and more. It is no wonder it known as the most comprehensive gluten-free blog. Carla's specialties include gluten-free bread recipes, and Italian recipes, such as cream puffs, cannoli, homemade ravioli, and more. As a recipe developer, she is currently creating a recipe for KitchenAid's 6-Quart Slow Cooker. Celebrate her success by entering this giveaway or leaving a comment on her blog.