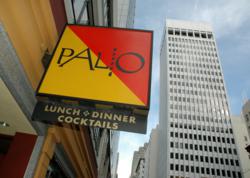 San Francisco, CA (PRWEB) October 13, 2011
A pioneer in offering heart healthy dishes, 21 year Italian cuisine veteran Palio D'Asti on Sacramento Street in San Francisco's Financial District (http://www.paliodasti.com) is now going one step further; offering a designated gluten-free menu. Selected from its wide range of seasonally changing fare at lunch and dinner, the new gluten free list offers the same dishes and presentation as the broader menu but in a concentrated format that allows diners to identify allergy free options without having to analyze the full menu.
Authenticity, seasonality, and sustainability are the bywords at Palio; making it a Michelin recommended destination for comfortable dining. Chef owner Dan Scherotter, who personally oversees the kitchen daily, studies and worked in Bologna and was a founding restaurant member of Slow Food San Francisco. He regularly visits Italy where he researches regional recipes featured on Palio's ala carte weekday lunch service (voted a "Best San Francisco Italian 2010" by sfgate.com readers) and its "Mix and Match" fixed price dinner menu – recently named "Best Bargain Prix Fixe" by Zagat Survey 2012.
"Italian restaurants are not usually thought of as good places to be gluten-free, mainly because of the pasta and pizza, but Palio has no problem getting around that obstacle by following traditional Northern Italian recipes and using naturally gluten-free pasta," explained Scherotter. "We pride ourselves on our responsive customer service and it's clear that gluten-free dining is a growing trend based on the number of requests that we get about the ingredients in out dishes. So why not give everyone peace of mind by offering an actual menu that lists 20 plus items to choose from?"
From soup, salad and appetizers like Pan-Roasted Day-Boat Scallops with Lemony Braised Escarole, Toasted Sesame Seeds and Sicilian Caviar; an Antipasti of Prosciutto San Daniele, Rabbit Country Pâté, Smoked Duck Breast, and Mustard Pickled Vegetable Salad; Mixed Lentil Soup with Wild Mushrooms, Garlic and Rosemary to five different polenta dishes, four large entrée lunch salads including Warm Seafood with Frisée, Fennel, Scallions, Sweet Peppers, Yukon Gold Potatoes, Calamari, Prawns, Fish and Braised Octopus Vinaigrette, two different winter risottos, every kind of entrée protein, and Pizzocheri alla Bolognese, an Alpine Style Fresh Buckwheat Tagliatelle with Traditional Meat Sauce for pasta lovers; gluten intolerant diners no longer need feel marginalized in the world of fine Italian dining.
"I prefer to serve a little buckwheat mixed into my polenta, known as taragna – just like they ate before Christopher Columbus brought corn back from the New World," explained Scherotter in talking about his selction of gluten-free polenta. "Not only is it a nod to tradition, but it adds complexity, flavor and variety, as well. Made with butter, sage and and Parmigiano Reggiano, it's served with a choice of sauteed toppings that change throughout the cold weather months such as Truffled Wood-Roasted and Red Wine-Braised Wild Mushrooms; Sharp Mountain Gorgonzola with Caramelized Apples and Toasted Walnuts; Garlicky Sautéed Prawns with Sweet Peppers; Pot-Roasted Rabbit and Pancetta with Baby Carrots and Orange; and Braised Berkshire Pork Shoulder with Cotechino Sausage, Brussels Sprouts and Mustard. The people of Northern Italy eat this a lot; and also live longer than anyone else in Europe. Coincidence? Who knows. All I can say is that they all go great with red wine."
Mix and Match Prix Fixe Dinner options allow diners to choose any Two Courses for $31, Three Courses for $39, or Four Courses for $45. The a la carte gluten-free lunch menu includes antipasti, soups and starter salads from $8-$14; large lunch entrée salads from $17-$21; polenta, risotto and gluten-free pasta available in half and full size portions from $9-$21; entrees from $21-31 and desserts include gluten-free sorbet and Amedei single source organic chocolates- a Palio San Francisco exclusive. Seasonal house cocktails including housemade Limoncello and a Wine Spectator award winning list add to the casually sophisticated white tablecloth pleasures.
Palio D'Asti is located at 640 Sacramento Street between Kearny and Montgomery in the heart of San Francisco's Financial District; convenient to Moscone Center and major downtown hotels.
Open for lunch Monday- Friday from 11:30 am to 2:30 pm, Palio offers dinner Monday to Saturday from 5:30 to 9:00 pm. A weekday bar menu is offered from 2:30 to 5:30 pm with "free pizza" Happy Hour Monday-Friday from 4:00 to 7:00 pm. Intimate San Francisco private dining is available for breakfast, lunch, cocktail receptions and dinner for groups of 10 to 300. 2 hour free validated parking is available at the nearby Portsmouth Square Garage at lunch or dinner.
Reservations are available online via Open Table and directly at http://www.paliodasti.com or by calling (415) 658-9295.
# # #