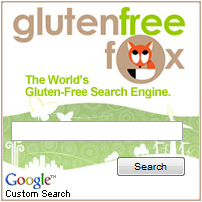 The World's Gluten-Free Search Engine
San Francisco, CA (PRWEB) April 6, 2009
When "The World's Gluten-Free Search Engine" launched in December of 2008, gluten-free information became much more easily accessible. In an ever-growing industry (it is estimated that up to 30% of the US population is gluten sensitive), the world of gluten-free answers is at searchers' fingertips with this customized search engine.
Gluten Free Fox's search box, which produces gluten free search results exclusively, allows users to enter terms such as "sugar cookie recipe" to produce pages of gluten-free sugar cookie recipes, or "awareness" to find pages of results for celiac and gluten intolerance awareness organizations, articles, and events.
Now users can access Gluten Free Fox search results from anywhere on the internet by easily adding the gluten-free search plugin to their Internet Explorer or Mozilla Firefox browser toolbar.
Additionally, bloggers and website owners can add the gluten-free search widget to their site, inviting users to search the gluten-free web from their very own site.
GlutenFreeFox.com features articles and gluten-free recipes to cover all of the needs of the gluten sensitive community.
Expert authors include:
-Kristen Campbell, Gluten-Free Beauty and Lifestyle Expert, Co-Founder of GlutenFreeFox.com and Founder of NaturallyDahling.com
-Dr. Vikki Petersen, D.C., C.C.N., Expert Gluten Doctor, Author of The Gluten Effect and Founder of HealthNOW Medical Center
-Karen Broussard, Gluten-Free Travel and Dining Expert, Founder and President of GlutenFreeTravelSite.com
-Joann Mitchell, Gluten-Free Baking/Cooking Expert, Cooking Instructor and Founder of ¡Buen Provecho! Enjoy Your Food!
The co-founder of GlutenFreeFox.com, Kristen Campbell, who is severely gluten intolerant, understands how difficult it can be when a person is initially diagnosed with gluten intolerance or celiac disease, and how tricky it can be navigating your way through a gluten-free diet. This is why she also created the "Your Story" page. This page invites readers to share the story of their own road to diagnosis, as it is often a long and painful one.
###