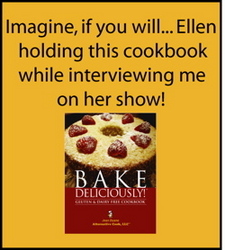 Think Alternative Cook on The Ellen DeGeneres Show
Centennial, CO (PRWEB) November 16, 2009
Ellen DeGeneres announced on her show on June 5, 2009 that she had been gluten-free for two weeks and felt much better. Gluten intolerance affects up to 90 million Americans according to Braly and Hoggan authors of Dangerous Grains, and yet only approximately 1% of the population correlates their chronic ailments such as migraines, arthritis, constipation, fibromyalgia, heartburn, joint pain, hives, multiple sclerosis, asthma, Type 1 diabetes, lupus and a host of other ailments, with gluten ingestion. Ms. Duane believes that her cookbook Bake Deliciously! Gluten and Dairy Free will enhance Ellen's life as well as the lives of viewers because it shows at-home cooks how to make more than 150 beautiful baked items without gluten, dairy, casein and other common allergens.
This must-have cookbook for is for anyone following a special diet. Inside Ms. Duane shows readers how to make appetizing cakes, muffins, quick breads, truffles, cookies, soufflés, crackers, desserts, snacks, breakfast treats, tarts, pies and crisps. In addition to the easy-to-follow recipes, most of which can be completed in five steps or less, the book also features hundreds of mouth-watering photos as well as notes on what happens in a recipe when one ingredient is changed. Those with Celiac disease, gluten or dairy intolerance, food allergies, Autism, ADD, Crohn's disease, asthma, IBS, ADHD, Aspergers or those looking for a healthier approach to baking will find the book especially useful.
Gluten is a protein found in barley, rye, oats, wheat and spelt. (Remember the acronym BROWS).
"I'm not sure how I'll attain this goal, but 'putting it out there' worked for Ellen. I'll be thinking positive, blogging about it on AskJeanBlog and visualizing myself on The Ellen DeGeneres Show so I can share delicious recipes with Ellen and her viewers who may also be struggling with the gluten-free diet." "Think Alternative Cook on The Ellen DeGeneres Show" says Jean Duane.
About Alternative Cook:
Alternative Cook offers trail-blazing cooking instruction on DVD, video streams and in Bake Deliciously! Gluten and Dairy Free Cookbook. The Mexican, Italian and Kids' Meals DVDs provide 90 minutes of cooking instruction and show how to make six different meals. The Chocolate DVD shows how to make chocolate treats you may have thought were a thing of the past on the gluten-free, dairy-free or allergy-free diet. Each DVD includes a recipe booklet, so you don't need a DVD player in the kitchen! For video overviews of the DVDs, cookbook and to learn more, please visit Alternative Cook.
###