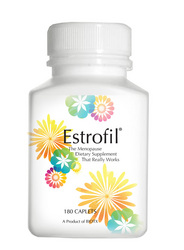 Seattle, WA (Vocus) July 28, 2010
Lactose intolerance, celiac disease and gluten allergies are increasingly common among perimenopausal and menopausal women. However, some of the most popular natural remedies for women experiencing menopause symptoms – including those which provide menopause hot flash relief – contain lactose or gluten. A new all-natural menopause supplement – Estrofil – http://www.estrofil.com contains no lactose or gluten and is ideal for women seeking menopause relief with lactose intolerance or on a gluten-free diet.
In addition to being ideal for women on a gluten-free or lactose-free diet, Estrofil is the only menopause supplement that offers many of the benefits of hormone replacement therapy without the risks. Estrofil is not estrogen or hormone replacement therapy for women. Each of Estrofil's ingredients are plant based and estrogen-free and have been safely and effectively used in Traditional Chinese Medicine for centuries.
Estrofil is unique because its plant-based ingredients – a combination of roots, fruit, seeds and rhizomes - safely encourage a woman's endocrine system (the body's own internal system of checks and balances) to naturally regulate proper hormone levels. This is what distinguishes Estrofil from other natural menopause remedies.
The lactose-free and gluten-free Estrofil can be highly effective in providing perimenopausal and menopausal women with the following benefits:

Relieves hot flashes and night sweats.
Naturally adjusts hormone levels thereby easing vaginal dryness, mood swings, headaches, poor hair quality, fatigue, depression, breast tenderness, weight gain, skin issues and declining libido.
Has been shown to have positive effects on increasing bone density.
Only Estrofil stimulates a women's body to naturally and safely resume estrogen production.
Encourages a woman's endocrine system to naturally regulate proper hormone levels.
Estrofil contains the following ingredients: Rehmannia (root tuber), Chinese Dodder (seed), Psoralea (fruit), Chinese yam (rhizome), Asiatic Dogwood (fruit without seed), Ligustrum (fruit), Tree Peony (root bark), Asian Water Plantain (rhizome), and Poria (sclerotium).
With full confidence in its menopause supplement, the manufacturer of Estrofil - BIOTX Limited - provides a 90-day guarantee of product satisfaction. If, after taking Estrofil for 90 days, a woman's menopause symptoms or their severity are not reduced, she can return the empty bottles for a full refund of the purchase price. A 90-day supply of Estrofil is $99 plus shipping.
Visit http://www.estrofil.com for more information or to order Estrofil.
About BIOTX Limited
Founded in 2004, BIOTX Limited manufactures and develops new dietary supplements based on Traditional Chinese Medicine. The company works closely with the Tianjin University of Traditional Chinese Medicine in developing its proprietary formulations and produces dietary supplements under the strictest quality standards.
Media Contact:
Ria Romano, Partner
RPR Public Relations, Inc.
Tel. 786-290-6413
###