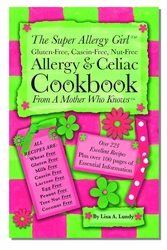 It is very important that consumers get tested for celiac disease before they go on a gluten-free diet
Buffalo, New York (Vocus) July 18, 2009
The fact that JWT, one of the largest advertising agencies in the world, listed gluten-free as one of the 90 things to watch in 2009 caught some people by surprise. Market research companies have been marking the upward trend in gluten-free retail sales with growth at annual rate of more than 25% for the last eight or more years. Gluten-free products are predicted to be a $1.7 billion industry by next year up from $210 million in 2001. Motivational speaker and Allergy & Celiac Cookbook author, Lisa A. Lundy, offers consumers a new video explaining some of the reasons why the gluten-free diet is exploding in popularity which you can view here and a new document on the same subject that you can download from her website at http://www.TheSuperAllergyCookbook.com.
One of the reasons for an increase in the use of a gluten-free diet is an increased awareness of both celiac disease and gluten intolerance. Both celiac disease and gluten intolerance use a gluten-free diet. Celiac disease is an autoimmune disease that affects about 1% of the U.S. population. Gluten intolerance is estimated to affect between 18 and 20 million Americans. In the U.S. 97% of the people who have celiac disease do not yet know that they have it according to the University of Chicago Celiac Disease Program. As with any disease, early diagnosis can prevent unnecessary health complications like cancer and neurological disorders. The total U.S. healthcare cost for all untreated celiacs is estimated to be between $14.5 and $34.8 billion per year.
"It is very important that consumers get tested for celiac disease before they go on a gluten-free diet," Ms. Lundy stated. "The mistake I made, which happens to be one of the most common mistakes, is to go on a gluten-free diet without getting tested. Once you feel better, then you never want to start eating gluten." Testing for celiac disease is a celiac panel blood test often followed by a small bowel biopsy. Lundy's middle child has celiac disease and is lactose intolerant. Her other two children also have food allergies and sensitivities.
Lundy's cookbook, "The Super Allergy Girl™ Allergy & Celiac Cookbook -From A Mother Who Knows™", is a gluten-free, casein-free, dairy-free, egg-free, peanut and tree-nut free and other allergen-free resource to help people on a gluten-free, GFCF diet, or allergy-restricted diet. As a cookbook, it is a powerhouse of information on special diets, how to save time and money, special ingredients to make life with food allergies, celiac disease and special diets easier, special tools worth knowing about, and many other relevant topics. Lundy has been in the food allergy and celiac areas for ten years. She teaches baking classes and helps restaurant owners become allergy and celiac savvy and is an accomplished public speaker.
Her highly praised book is available at http://www.TheSuperAllergyCookbook.com. She is passionate about helping people be empowered in the area of food and wellness and about helping people live a great life.
Size: 6" x 9"
Pages: 405 pages
Soft Cover, Perfect Bound
ISBN#: 978-0-9797542-0-3
Price: $28.95
Contact: Ms. Lisa Lundy
Phone: (716) 835-6392
###