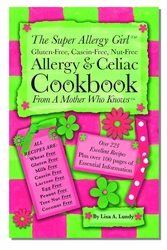 The Expense of Eating With Celiac Disease
Buffalo, N.Y. (Vocus) August 31, 2009
Long before gluten-free was named as one of the things to watch by JWT, one of the world's largest advertising agencies, in December 2008 -- the gluten free market was hot. SPINS®, a market research company in the natural product industry, indicated in a March 2009 press release that the gluten-free market was still hot despite tough economic times with dollar sales up 16% in 2008 from the prior year.
New scientific research by A. Vojdani, et al, has indicated that gluten sensitivity can impact other organs like the joints, the heart, thyroid, brain cerebellum and the neuronal synapsins (synapsin is a neuronal phosphoprotein involved in the regulation of neurotransmitter release), and has been associated with neurological disorders. Gluten is an amino acid sequence found in grains like wheat, barley, rye, and spelt as well as other grains.
Consumers doing gluten-free baking can find help in the form of a new video and baking tip sheet offered by gluten-free cookbook author, Lisa A. Lundy, which is available free from her website at http://www.TheSuperAllergyCookbook.com. Lundy is the author of The Super Allergy Girl™ Allergy & Celiac Cookbook, a gluten-free, dairy-free, egg-free, peanut-free, tree nut free and other allergen free cookbook.
As a recent New York Times article aptly titled "The Expense of Eating With Celiac Disease" pointed out, commercially prepared gluten-free foods can be expensive.
"More and more consumers are recognizing that they can get higher quality gluten-free and allergen-free foods by making them at home for a fraction of the cost," said Lundy who has been cooking and baking gluten-free for over ten years. "If we can have great tasting foods that are free of all gluten, dairy, eggs, peanuts, tree nuts and other allergens, then there is hope for everyone."
The gluten-free diet is mandatory for individuals diagnosed with celiac disease, an autoimmune disease that runs in families. It is estimated that about 1% of the U.S. population has celiac disease or nearly 3 million people. According to the University of Chicago, Celiac Disease Program about 97% of Americans who have celiac disease are not yet aware that they have this condition.
In addition to individuals who have celiac disease, there are individuals who have gluten intolerance or sensitivity to gluten that does not meet the clinical criteria of celiac disease, who also benefit from a gluten-free diet.
In a research paper titled "The Immunology of Gluten Sensitivity Beyond the Intestinal Tract" published in 2008, researchers A. Vojdani, et al, state: "Although it is believed that the prevalence of celiac disease is one in one hundred, for every symptomatic patient with celiac disease there are eight patients with celiac disease with no GI symptoms."
A study that appeared in Gasteroenterology 2009 by A. Rubio-Tapia, et al, concluded that during 45 years of follow-up, undiagnosed celiac disease was associated with a nearly 4-fold increased risk of death, and that the prevalence of undiagnosed celiac disease seems to have increased dramatically in the U.S. in the past 50 years.
Lundy's second son has celiac disease and is lactose intolerant. Her daughter has life-threatening (IgE mediated) food allergies to milk, eggs, peanuts and tree nuts. Her daughter, Anne, was a modern day bubble child three years ago because of a suppressed and dysfunctional immune system and Anne's inability to absorb vitamins and minerals from her diet - a condition that resulted in severe malnutrition. Anne's health has improved dramatically, and she is expected to be completely well in the next year thanks to medical treatments, a special diet, and other non-invasive therapies that Lundy and her husband have used with medical supervision.
Lundy has created a content-rich website with free white papers, tip sheets, recipes, videos and a Blog, all designed to support consumers. Her passion is empowering consumers to live a great life no matter what their circumstances. Her highly praised cookbook contains over 100 pages of essential information to help both beginners and advanced cooks get started and over 225 delicious tasting recipes. The Gluten-Free Baking Tip sheet designed to help consumers avoid mistakes in gluten-free baking can be found at http://www.TheSuperAllergyCookbook.com. It is one in a series of tip sheets to educate consumers on the gluten-free diet.
Size: 6" x 9"
Pages: 405 pages
Soft Cover, Perfect Bound
ISBN#: 978-0-9797542-0-3
Price: $28.95
Contact: Ms. Lisa Lundy
Phone: (716) 835-6392
###