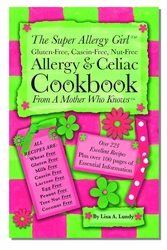 I love the idea of the gluten-free gift bags because people never know what they can buy for me due to our special diet - we're gluten-free and casein-free
Buffalo, N.Y. (Vocus) September 2, 2009
Lisa A. Lundy of http://www.TheSuperAllergyCookbook.com announced that new Gluten-Free Gift Bags are being launched to meet a growing need in the explosive gluten-free market. The gluten-free gift bags are the perfect way to help someone getting started on the gluten-free diet or - for someone already on the gluten-free or GFCF diet - as a thoughtful gift for birthdays, holidays, and other special occasions. The gluten-free gift bags come in three versions: Standard, Premium, and Deluxe, and contain the essential ingredients for gluten-free baking plus a copy of The Super Allergy Girl™ Allergy & Celiac Cookbook. With free priority mail shipping anywhere in the U.S. and gift bags priced below the total retail value of the contents - it all adds up to great value for gluten-free shoppers. Reusable cloth totes make the gift bags environmentally friendly.
The Standard Gluten-Free Gift Bag contains xanthan gum, four different kinds of gluten-free flours, egg replacer, baking powder, a dough scraper, and a copy of The Super Allergy Girl™ Allergy & Celiac Cookbook - essential ingredients to get started with gluten-free baking and is packaged in a light-weight reusable cloth bag. The Premium Gluten-Free Gift Bag contains all the items included in the Standard Gift Bag and measuring spoons and cups, DairFree® Original (non-dairy, powdered milk substitute used in gluten-free baking) packaged in a larger heavy duty canvas tote bag. The Deluxe Gift Bag includes everything in the Premium Gift Bag plus a Super Allergy Deluxe Apron and is also packaged in the larger heavy-duty canvas tote bag.
Before bringing the new Gluten-Free Gift Bags to market, Lisa A. Lundy, who is the author of The Super Allergy Girl™ Allergy & Celiac Cookbook, did her homework - checking in with individuals who have been on the gluten-free and GFCF (gluten-free & casein-free) diet for ten or so years like herself. "I love the idea of the gluten-free gift bags because people never know what they can buy for me due to our special diet - we're gluten-free and casein-free," said Sara Siracuse of Lockport, NY. "Baking ingredients are consumable, which makes for a useful gift."
Gloria Tilley, of Lakeview, NY said, "It's a great item for people who are new to the gluten-free diet and may not have a store near them that carries xanthan gum and gluten-free baking ingredients. Plus, it would be the perfect gift for someone like me to receive since I can use all of the ingredients."
Gluten is an amino acid sequence found in wheat, barley, rye, spelt and other grains. The gluten-free diet is medically necessary for individuals diagnosed with celiac disease, an autoimmune disease that affect about 1% of the population or about 3 million Americans. The gluten-free diet is also indicated for individuals who have gluten intolerance. Beyond celiac disease and gluten-intolerance, the gluten-free diet has been used for health issues like ADHD, depression, anxiety, gastrointestinal issues including pain and bloating, Crohn's disease, irritable bowel and Fibromyalgia. "It is really important that individuals considering a gluten-free diet get tested for celiac disease," said Lundy.
Ms. Lundy has created a content-rich website with free white papers, tip sheets, recipes, videos and a blog - all to help consumers. She is the mother of three children. Her middle child has celiac disease and her youngest has life-threatening food allergies to milk, eggs, peanuts and tree nuts. Consumers with questions can post them on her blog for the quickest response. Her website is http://www.TheSuperAllergyCookbook.com. On Tuesday, September 8th, Lisa will be at Natur-Tyme, Central New York's Premier Nutritional Headquarters, in Syracuse, NY from 2:00 p.m. to 7:00 p.m. with samples of her baked goods, to answer questions and to sign copies of her book.
Size: 6" x 9"
Pages: 405 pages
Soft Cover, Perfect Bound
ISBN#: 978-0-9797542-0-3
Price: $28.95
Contact: Ms. Lisa Lundy
Phone: (716) 835-6392
###