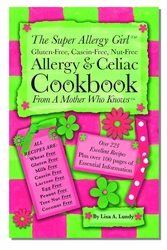 Anne's inability to absorb vitamins, minerals and other nutrients from her diet have been an enormous medical hurdle to jump over making her life-threatening food allergies seem like a small problem
Buffalo, N.Y. (Vocus) August 3, 2009
Medical experts agree that a gluten-free diet is medically necessary for the nearly 3 million Americans who have celiac disease, which equates to about 1% of the population. Celiac disease is an autoimmune disease in which the consumption of wheat, barley, rye and other grains containing gluten results in an autoimmune response in the body and which left untreated can cause cancer and other serious neurological conditions and even death.
The treatment for celiac disease is strict adherence to a gluten-free diet. It was only in the last decade that U.S. medical experts understood the prevalence of celiac disease within the confines of our country. 97% of Americans with celiac disease still don't yet know that they have it according to the University of Chicago, Celiac Disease Program. Gluten intolerance, a condition with similar symptoms to celiac disease without meeting the diagnostic criteria for celiac disease, is gaining acceptance as an underlying health issue. Dr. Scot Michael Lewey, a board certified subspecialist who limits his practice to diseases of the digestive tract, estimates that gluten intolerance could affect from 10% to 30% of the U.S. population. Consumers considering a gluten-free diet will find must know information in a new video and tip sheet offered by gluten-free cookbook author, Lisa A. Lundy, which you can download free from her website http://www.TheSuperAllergyCookbook.com.
Lundy is the author of The Super Allergy Girl™ Allergy & Celiac Cookbook - From A Mother Who Knows™, a gluten-free, dairy-free, egg-free, peanut free, tree nut free and other allergen free cookbook that is a resource for both beginners and advanced cooks. With over ten years in the gluten-free and celiac area, Lundy has made her share of mistakes including the purchase of a gluten-free cookbook many years ago that actually contained gluten in the recipes. Lundy's second child has celiac disease and several non-IgE mediated food allergies or food intolerances. Her daughter, Anne, has life-threatening food allergies to milk, eggs, peanuts and some tree nuts, a big problem to some parents but a small problem to Lundy. "Anne's inability to absorb vitamins, minerals and other nutrients from her diet have been an enormous medical hurdle to jump over making her life-threatening food allergies seem like a small problem," said Lundy. "Anne has undergone nutritional IV infusion therapy because she was so malnourished despite an organic and extremely healthy diet."
The Celiac Sprue Association and The Gluten Intolerance Group of North America are two consumer organizations that Lundy recommends to consumers because of their commitment to helping consumers and their long-standing reputations. Above all, Lundy recommends that consumers use their primary care physician for any medical diagnostic work and testing for celiac disease and other health issues. Untreated celiac disease increases the risk of cancer by 200-300% and increases the risk of miscarriage by 800-900%. The total U.S. healthcare cost for all untreated celiacs is estimated to be between $14.5 and $34.8 billion annually. There are over 300 symptoms, associated disorders or complications associated with celiac disease including abdominal pain or bloating, acid reflux, anemia, anxiety or depression, arthritis, behavior disorders, cancers, chronic fatigue, chronic diarrhea or chronic constipation, headache or migraine, osteoporosis or osteopenia and diabetes. Testing for celiac disease typically begins with a celiac panel blood test.
Lundy's cookbook includes over 100 pages of essential information to help consumers get started on the gluten-free diet as well as over 225 delicious recipes from appetizers and soups to main dish meals and baked goods and desserts. She is the ardent proponent that foods can be free of all allergens and still taste great. Her book is available at http://www.TheSuperAllergyCookbook.com, a content rich website where there are free downloadable white papers, tip sheets, videos and recipes to help consumers be successful with the gluten-free diet.
Size: 6" x 9"
Pages: 405 pages
Soft Cover, Perfect Bound
ISBN#: 978-0-9797542-0-3
Price: $28.95
Contact: Ms. Lisa Lundy
Phone: 716-835-6392
###