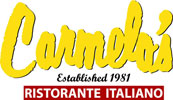 Food is our passion, your enjoyment our mission.
Houston, TX (PRWEB) April 19, 2013
Carmelo's Italian Restaurant has a pair of events planned for the month of April. Carmelo's will have specials for Administrative Professionals Day and will take part in the Give 5 to Conserve Houston Campaign on April 20.
Carmelo's will be part of the Give 5 to Conserve Houston Campaign again on Saturday, April 20 as five percent of their dinner sales that night will be donated to five local conservation nonprofits: BayouLand Conservancy, Houston Audubon, Katy Prairie Conservancy, Buffalo Bayou Partnership and Galveston Bay Foundation. These non-profits dedicate their time and energy into environmental protection and sustainability in the Houston area. The campaign is held each year on the Saturday before Earth Day.
Carmelo's will honor Administrative Professionals Day by offering a free chocolate-covered strawberry after a meal on Wednesday, April 24. Administrative professionals may introduce themselves to a server and exchange a business card for a small token of Carmelo's appreciation. Administrative professionals may be celebrated and thanked all week with lunch or dinner and/or a gift certificate.
About the company:
For authentic Italian food in a place where customers are treated like family, visit Carmelo's Italian Restaurant, a 2013 Open Table Diner's Choice, which just celebrated 31 years in Houston. Carmelo's was founded by its namesake, Carmelo Mauro in 1981. The authentic Italian restaurant features signature dishes such as ossobuco, red snapper mango over risotto pancake, oysters with champagne reduction, and fettuccine alla carbonara.
Sensitive to client's wishes, Carmelo has also introduced delicious gluten and vegetarian friendly menus. The restaurant also offers a wide selection of wine, beer, cocktails and hors d'oeuvres. Carmelo's has been recognized for its extensive wine list and has received the Wine Spectator Award of Excellence numerous times. Carmelo's is also available for private parties and catering. Carmelo's Italian Restaurant is located at 14795 Memorial Drive in Houston and 504 E. 5th. St. in Austin. For more information, call (281)-531-0696 or visit the website http://www.carmelosrestaurant.com.