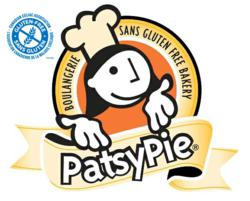 My goal from the start was to build a really good bakery that just happens to make only gluten-free treats the whole family can enjoy, whether or not they needed to be on a gluten-free diet
Toronto, Ontario (PRWEB) June 18, 2013
The Gluten-Free Certification Program (GFCP) and the Canadian Celiac Association are pleased to announce that PatsyPie Gluten-Free Bakery has become one of the growing number of GFCP certified companies. By displaying the GFCP trademark, the PatsyPie brand provides consumers with a trusted and easily identifiable source of safe, reliable gluten-free products.
The Gluten-Free Certification Program (GFCP) is a voluntary certification program designed to help brand owners to differentiate their gluten-free products from the increasing clutter of gluten-free claims. The program is founded on a robust third-party audit certification process at the manufacturing facility, which verifies a company's ability to regularly meet the stringent GFCP requirements, when also managing gluten as part of their food safety program.
As the owner of PatsyPie, Pat Libling stresses that unlike the vast majority of gluten-free baked goods, PatsyPie products do not contain any starchy fillers, such as tapioca starch or potato starch. "We use only alternative flours, including rice, corn and chickpea." According to Pat, the downfall of many gluten-free baked goods is the taste and texture. "My goal from the start was to build a really good bakery that just happens to make only gluten-free treats the whole family can enjoy, whether or not they needed to be on a gluten-free diet."
Currently PatsyPie offerings include a varied range of cookies, biscotti, brownies and muffins. Last year, the company also introduced the industry's first shelf-stable, fill and serve, gluten-free pie crust. "We've got more on the way," says Libling. "But we never rush a product to market. We take our time to get it right."
"The Canadian Celiac Association believes that all Canadians have the right to safe food, and have developed the Gluten-Free Certification Program to meet those special needs," states Peter Taylor, Executive Director of the Canadian Celiac Association. "The CCA advocates on behalf of approximately 2,300,000 Canadians suffering from celiac disease and gluten sensitivity, individuals frustrated by the uncertainty of identifying gluten-free products - products essential to their well-being."
About the Allergen Control Group Inc. (ACG)
The Allergen Control Group Inc. is a privately held Canadian corporation, which operates the GFCP and is also contracted by the CCA to exclusively manage the GFCP/CCA endorsement The company is located in Milton, Ontario, CANADA. http://www.glutenfreecertification.ca
About the Canadian Celiac Association (CCA)
The Canadian Celiac Association is the national voice for people who are adversely affected by gluten, and is dedicated to improving diagnosis and quality of life. Based in Mississauga, Ontario, with 28 Chapters across the country, the organization's mission includes advocacy, education, research and community support. http://www.celiac.ca
PatsyPie
Founded as a home-based business in 2001, PatsyPie has operated out of a dedicated gluten-free facility in Montreal, Quebec for the past several years. Today, PatsyPie stands among the fastest growing gluten-free brands, available in supermarket chains and independent stores across the country, including Metro, Sobeys and Walmart. PatsyPie cookies and muffins are also served on Air Canada flights. For more about Pat Libling and PatsyPie, please visit http://www.patsypie.com
Call toll-free 1-87-PATSY-PIE (1-877-287-9743). In Montreal: 514-333-7253.