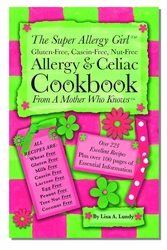 The Expense of Eating With Celiac Disease
Buffalo, NY (Vocus) August 24, 2009
A recent article that appeared in The New York Times titled "The Expense of Eating With Celiac Disease" focused on the costs of gluten-free foods and the difficulties of living a gluten-free lifestyle. Consumers interested in ways to save money on the gluten-free diet can watch a short video and download a free tip sheet offered by gluten-free cookbook author, Lisa A. Lundy, which is available free on her website- http://www.TheSuperAllergyCookbook.com. Lundy makes gluten-free baking look easy because compared to the baking her family requires - gluten-free baking is easy. Her three children require a gluten-free, dairy-free, egg-free, peanut-free, and tree-nut free diet for optimal health due to her son's celiac disease and her daughter's life-threatening or IgE mediated food allergies. She is the author of The Super Allergy Girl™ Allergy & Celiac Cookbook, a cookbook suitable for individuals with food allergies, food sensitivities or intolerances and who are using a gluten-free and dairy-free diet. Gluten is found in grains like wheat, barley, rye, spelt and other grains.
The gluten-free diet is medically required for individuals who are diagnosed with celiac disease, which is an autoimmune disease affecting about 1% or nearly 3 million Americans. Ninety-seven percent of Americans who have celiac disease do not yet realize that they have this disease according to figures from the University of Chicago, Celiac Disease Program. In a medical literature piece titled "The immunology of gluten-sensitivity beyond the intestinal tract" published in the European Journal of Inflammation (2008), A. Vojdani, et al report the following: "Although it is believed that the prevalence of celiac disease is one in one hundred, for every symptomatic patient with celiac disease there are eight patients with celiac disease with no gastrointestinal symptoms." A Gastroenterology 2009 article on the increased prevalence and mortality by A. Rubio-Tapia, et al, found during 45 years of follow-up, undiagnosed celiac disease was associated with nearly a 4-fold increased risk of death and a seemingly dramatic increase in the prevalence of undiagnosed celiac disease.
According to Vojdani gluten sensitivity can impact other organs like the joints, the heart, thyroid, brain cerebellum and the neuronal synapsins (synapsin is a neuronal phosphoprotein involved in the regulation of neurotransmitter release), and has been associated with the following neurological disorders: cerebellar ataxia, epilepsy, myoclonic ataxia, chronic neuropathies and dementia. Ataxia is defective muscular coordination especially that are manifested when voluntary muscular movements are attempted. He also suggests that the variability of neurologic disorders that occur in gluten sensitivity is broader than previously reported and includes "softer" and more common neurologic disorders such as chronic headache, developmental delay (autism), hypotonia, and learning disorders or ADHD.
"I'm curious why the cost of the gluten-free diet gets a prominent headline in an article," said Lundy, "Have they run a headline about the tragic statistic that 97% of the people in America who have celiac disease don't yet know that they have this disease and they could end up with cancer or a serious autoimmune disease or just plain dead? If you have to have a disease, this is the one to have," she said laughing. It is clear that Lundy, as a working mother, is not suffering over having to do the gluten-free, dairy-free, egg-free, peanut-free and tree nut free diet. She is having a grand old time helping educate consumers on the impact food can have on health and vitality.
To help consumers who are considering the gluten-free diet, Lundy has added free white papers, tip sheets, recipes and videos to her website and Blog. Recently she created a list of scientific articles that support the gluten-free diet, which is also available on the Resources tab of her website- http://www.TheSuperAllergyCookbook.com. Lundy strongly urges individuals to get tested for celiac disease before trying a gluten-free diet. She is passionate about helping people live a great life regardless of their circumstances.
Size: 6" x 9"
Pages: 405 pages
Soft Cover, Perfect Bound
ISBN#: 978-0-9797542-0-3
Price: $28.95
Contact: Ms. Lisa Lundy
Phone: (716) 835-6392
###