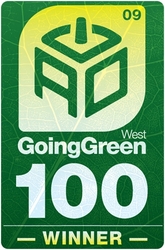 The GoingGreen Top 100 winners have excelled in key strategic areas in the global clean energy technology markets
Houston, TX (PRWEB) September 3, 2009
Glycos Biotechnologies, Inc. (GlycosBio), a metabolic engineering innovator in biologically converting non-sugar feedstocks into next generational bio-products, today announced that it has been chosen by AlwaysOn as one of the GoingGreen Top 100 Winners. Inclusion in the GoingGreen 100 signifies major developments in the creation of new business opportunities in the green technology industries. GlycosBio was specially selected by the AlwaysOn editorial team and industry experts spanning the globe for leading technologies based on a set of five criteria: innovation, market potential, commercialization, stakeholder value, and media buzz.
GlycosBio and the GoingGreen Top 100 Companies will be honored at GoingGreen West on September 14th - 16th, 2009 at Cavallo Point in Sausalito, CA. This two-and-a-half-day executive event features CEO presentations and high-level debates on the most promising emerging green technologies and new entrepreneurial opportunities.
"The GoingGreen Top 100 winners have excelled in key strategic areas in the global clean energy technology markets," said Tony Perkins, founder and CEO of AlwaysOn. "We congratulate them for their success in introducing new tools, services, and systems that are driving the next phase of greentech innovation and transforming the biggest industries on earth."
The GoingGreen 100 winners were selected from among hundreds of other technology companies nominated by investors, bankers, journalists and industry insiders. The AlwaysOn editorial team conducted a rigorous three-month selection process to finalize the 2009 list.
Dedicated to helping the industry strike an energy balance between sustainable feedstocks and the production of biochemicals, GlycosBio has discovered a portfolio of microorganisms that can biologically make environmentally safe, green chemical intermediates from already existing sustainable feedstock sources. By leveraging a variety of low value, co-product or waste streams such as thin stillage from ethanol, biodiesel glycerin, algae, or palm industry fatty acids, GlycosBio's microbes and process technologies enable already established generation 1 refineries to leverage their existing plants to increase plant product diversity and business profits by producing new sustainable bio-product streams.
A full list of all the GoingGreen Top 100 Winners can be found on the AlwaysOn Web site at http://alwayson.goingon.com/permalink/post/33354
"We are happy to receive this recognition from AlwaysOn and to be included with such innovative companies all with the same goal of creating green technologies and processes," said Rich Cilento, Chairman for Glycos Biotechnologies, Inc. "By not following the typical sugars-based fermentation research, GlycosBio's approach solves the commodity risk and typical single feedstock business model flaws that have had such a negative impact on generation 1 bioplants. The combination of GlycosBio's industrial biological processes and feedstock leverage model enables biorefinery partners to generate profits through the production and diversification of new, higher value chemicals."
About Glycos Biotechnologies, Inc.
Glycos Biotechnologies, Inc. (GlycosBio) is pioneering the metabolic engineering of microbial strains to consume multiple non sugar-based, low value feedstocks for the production of sustainable chemical intermediates and advanced ethanol. By creating differentiated bioprocesses, GlycosBio's bioconversion technology can lower costs, provide a non food energy balance and price stability to the chemical and biofuel industries. GlycosBio is a Houston-based industrial biotechnology company started with technology initially developed at Rice University. For more information, visit http://www.glycosbio.com.
About AlwaysOn
AlwaysOn ignited the open-media revolution in early 2003 by being the first media brand to launch a global blog network. In 2004, AlwaysOn continued to lead the media industry in innovation by introducing a social network where members can connect and engage. AlwaysOn is also revolutionizing the media business by applying its open-media principles to its executive event series (Summit at Stanford, OnMedia, OnHollywood, OnDC, GoingGreen East and West, Venture Summit East and West) and quarterly print "blogozine" by empowering its members to post and share their ideas and meet each other online. As our loyal readers know, AlwaysOn is committed to the free-market, merit-driven approach to reporting and event programming. No other media brand has dared to create such open interaction with its readers and event participants.
###