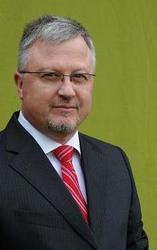 "GlycosBio represents a unique opportunity for me to help lead the implementation of one of the most innovative new industrial bioprocesses in the emerging biochemical marketplace." Werner Bussmann, Vice President of Program Management for GlycosBio
Houston, TX (PRWEB) March 30, 2011
Glycos Biotechnologies, Inc. (GlycosBio), an international biochemical company commercializing advanced biological processes that convert low-value feedstocks into high-value sustainable chemicals, today announced the Company has appointed Werner Bussmann as Vice President of Program Management. In this role, Bussmann will be responsible for leading the construction and production planning for GlycosBio's biotechnology and biochemical plant in Malaysia.
"We are very pleased to have Werner join the GlycosBio team to help manage and lead the construction efforts of the Company's first biochemical production facility," said Richard Cilento, Chief Executive Officer of Glycos Biotechnologies. "With our path to commercialization underway, GlycosBio is in a unique industry position to become one of the first industrial biotechnology companies to make good on the promise to commercialize years ahead of the other industrial biotechnology startup companies. Werner's successful management of multi-faceted, international projects throughout his career will be invaluable to his role at GlycosBio as we focus on completing our commercial project in Malaysia by Q4 2012."
Bussmann brings 25 years of experience in the pharmaceutical and specialty chemical industries to GlycosBio holding several key leadership positions throughout his career and making significant contributions to a number of commercial projects, production operations and performance enhancements to chemical projects. He received executive training at the Sloan School of Business MIT Cambridge, MA and has a PhD in organic chemistry and a MSc in chemistry and chemical engineering.
"GlycosBio represents a unique opportunity for me to help lead the implementation of one of the most innovative new industrial bioprocesses in the emerging biochemical marketplace," said Bussmann. "The Company has developed an ideal solution that solves a real problem faced by the industry today -- how to produce chemicals sustainably and economically ultimately diversifying the industry's dependence on crude oil and natural gas derived chemicals. GlycosBio is well positioned to deliver a commercial solution to the industry and to experience dramatic growth in its business. I look forward to helping continue this extraordinary progress."
Prior to joining GlycosBio, Bussmann was Director of European Operations for Troy Chemical Europe B.V., a global provider of additives and biocides to the paint, coatings and wood preservation industries. While at Troy Chemical, Bussmann managed developing strategies and operational plans to reorganize logistics and negotiate supply agreements, while driving plant financial and process improvements. Before his role at Troy Chemical, Bussmann held several production and Sr. Management positions for Bayer AG, a German chemical and world's third largest pharmaceutical company. These positions included Manager of Investment Projects, Business Manager of Material Protection, and Production Manager of Fine Chemicals. Bussmann is multi-lingual including being fluent in German and English.
About Glycos Biotechnologies, Inc.
Glycos Biotechnologies, Inc. ("GlycosBio") is an international biochemical company commercializing advanced metabolic engineering and microbial strain processes that convert multiple low value feedstocks into a range of high value sustainable chemicals. By designing a portfolio of differentiated microorganisms, GlycosBio's bioconversion technology produces a diverse set of chemicals, including substitutes for fossil fuel derived petrochemicals, meeting the growing global demand for clean, environmentally safe biochemicals.
GlycosBio is privately held and focused on biochemical commercialization and production with established global partnerships including relationships with petrochemical companies to secure low cost, non-petroleum based chemicals. For more information, visit http://www.glycosbio.com.
###