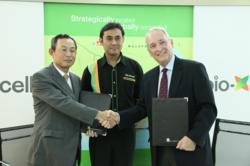 Apart from human capital development and expanded investment opportunities, GlycosBio's technology will be a critical contributor to Malaysia's near and long-term industrial and biotechnology goals.
Houston, TX (PRWEB) December 12, 2011
Glycos Biotechnologies, Inc. (GlycosBio), an international biochemical company focused on commercializing renewable, high-value specialty chemicals, announced it has chosen Toyo Engineering & Construction Sdn Bhd (Toyo Malaysia) to provide engineering, procurement, and construction (EPC) services for its industrial biochemical production facility located in Johor, Malaysia.
GlycosBio's commercial facility will be constructed in Bio-XCell, a government-supported biotechnology park focused on the advancement of industrial and healthcare biotechnology in Malaysia. Construction of GlycosBio's plant is scheduled for completion in Q2 2013.
GlycosBio's President, Walt Burnap, joined executives from Toyo and Bio-XCell including Rizatuddin Ramli, CEO of Bio-XCell and Toji Kawakami, Managing Director Toyo Malaysia at an event on December 6th in Malaysia during which they disclosed the details of the new relationship.
"TOYO is known and respected for its expertise in building facilities dedicated to the production of petrochemicals and biochemicals and has an impeccable track record of success," said Burnap. "We are confident that GlycosBio's facility will be built with the highest level of quality to aid us in our goal of supporting Southeast Asia's synthetic rubber market. The contract award to TOYO represents another milestone in GlycosBio's path toward becoming a leader in the production of biochemicals."
GlycosBio's commercial facility is being developed in several phases with a production rate capacity of up to 30,000 metric tons per year being reached by 2014 with a subsequent scale-up to 90,000 metric tons. Targeted biochemical for GlycosBio's plant include isoprene, a key building block molecule used in the synthetic rubber market. GlycosBio will initially utilize the facility to validate the ability to produce industrial ethanol from crude glycerin. The company will then further demonstrate its flexible technology platform at commercial scale using a range of feedstocks including fatty acids. Full production of GlycosBio's facility will follow with the production of isoprene from low-value renewable feedstocks readily available in Malaysia.
"We are pleased to have the opportunity to work with GlycosBio on the construction of their biochemical facility in Malaysia," said Kawakami. "TOYO as a Global company has more than 50 years of experience in engineering and constructing facilities for clients across a wide range of industries around the world. As we do for all clients, TOYO will design, build and commission for GlycosBio a quality state-of-the-art facility always emphasizing health, safety, security and the environment. We envision this project will be delivered on time with optimum cost as we have successfully done in many of our previous projects and completed cost efficiently."
"GlycosBio will play a significant role in strengthening our value chain for industrial bioprocess and biomanufacturing within the Bio-XCell ecosystem. Apart from human capital development and expanded investment opportunities, its technology will be a critical contributor to Malaysia's near and long-term industrial and biotechnology goals," said Ramli.
GlycosBio first announced its intention to expand to Malaysia in 2010 through its partnership with Bio-XCell and is the first US-based company to begin construction at the industrial park in Johor, Malaysia. GlycosBio is also working closely with BiotechCorp, the national agency set up by the Malaysian government for the development of biotechnology in Malaysia. GlycosBio also received BioNexus status in 2011, a recognition awarded by the Malaysian Government to qualified companies that participate in and undertake value-added biotechnology activities in Malaysia.
About Glycos Biotechnologies, Inc.
Glycos Biotechnologies, Inc. (GlycosBio) is an international biochemical company focused on the commercialization of advanced metabolic engineering and microbial strain development which when combined with the development of related engineering processes convert multiple, low-value feedstocks into a range of high value sustainable chemicals. By designing a portfolio of differentiated microorganisms and related engineering processes, GlycosBio's bioconversion technology produces a diverse set of chemicals, including substitutes for fossil fuel derived petrochemicals, meeting the growing global demand for clean, environmentally safe biochemicals. For more information, visit http://www.glycosbio.com.
About Toyo Engineering & Construction Sdn Bhd
Toyo Engineering & Construction Sdn Bhd (Toyo Malaysia) is a leading and experienced EPCC contractor providing solutions to meet the demands of our clients in the areas of petrochemical, chemical and general industries in Malaysia.
From Basic and Front End engineering to undertaking the entire lifecycle of the project, we utilize our strong technical capabilities and abundant experience as an engineering contractor. Our philosophy is to meet our client's complete satisfaction as we strive to create value together with our clients and to grow and prosper with them.
At Toyo Malaysia, we maintain the flexibility to accommodate to our clients' requirement and we strive to improve efficiency and productivity by implementing best practices in the industry. We ensure that safety is our highest priority in all projects we undertake.
With our MS ISO 9001:2008 & OHSAS 18001:2007 certifications, we maintain high values and practice our corporate OSH & QMS policies. We have coveted numerous recognition and awards as a result of maintaining an excellent safety record and successfully adherence to strict policies. Since year 2000, Toyo Malaysia has successfully completed all our projects without LTI.
About Bio-XCell
Bio-XCell is a biotechnology park and ecosystem hub for industrial and healthcare biotechnology, with a focus on manufacturing and R&D. Developed by Malaysian Bio-XCell Sdn Bhd, a joint venture company between BiotechCorp and UEM Land, the park is slanted to be the new regional biotech hub of Asia. Capitalising on value propositions of both its shareholders, Bio-XCell provides comprehensive infrastructure, services, incentives and benefits to drive the growth for the biotechnology sector.
Strategically located in Nusajaya, Iskandar Malaysia, the resource-rich state of Johor, Bio-XCell provides global connectivity through the network of five seaports and two international airports, all within 59kms. For information or leasing inquiries, log on to http://www.bio-xcell.com.
###