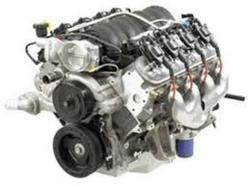 A same day shipment program is now a company policy when orders are placed.
Detroit, Michigan (PRWEB) February 14, 2013
General Motors produces multiple engine types that are used in the passenger cars, trucks and SUVs built each year. The replacement engine industry often varies in price and type from business to business. The RemanufacturedEnginesforSale.com company is now selling the GM 5.7 engine in a long block size to provide more resources for buyers trying to locate this larger size online. This company custom builds these new long block motors according to GM specifications. More information can be read online at http://www.remanufacturedenginesforsale.com/chevy-chevrolet.
The small block V8 has been in use since the early 1950s and is responsible for much of the success found in the various makes and models in the General Motors lineup. The large block size was designed for placement into midsize pickup trucks and SUVs that required more torque and performance for larger vehicles. The 5.7 series has been used in the Chevrolet and GMC brands from GM.
The new builds that are now offered for immediate sale are genuine blocks that have been reconditioned to a like new operating condition to provide a more affordable replacement compared with purchasing a 5.7 from a dealership.
A remanufactured engine requires the tools and equipment that are used by automakers during the original construction of a motor. Engine rebuilders have been reconstructing engine blocks since the early 1970s as a way to provide affordable replacements. Engine testing is now one way some companies are using to deliver a higher quality build.
The RemanufacturedEnginesforSale.com company now uses digital and mechanical testing during its builds. This is applied to the GM inventory and other auto company inventory currently in stock and sold to the public.
The recent inventory expansions have been equally matched new prices for select brands now in stock. The elimination of excess fees is one way that this company is helping to lower prices to provide more value to purchasers. A same day shipment program is now a company policy when orders are placed. This policy is helping to eliminate many of the delays are caused between processing and actual delivery of a motor. These efforts are in combination with new warranty terms that were announced earlier this month.
About Remanufactured Engines for Sale
The Remanufactured Engines for Sale company custom rebuilds Ford, Chevy, Dodge, Toyota, Honda, Suzuki, Isuzu and other top automaker engines for the public. This company has been a respected name in the auto industry for decades. The addition in 2009 of the first company website was the introduction that many customers had to company policies and price structures. New warranty terms and price incentives are now used by the Remanufactured Engines for Sale company to provide extra value to customers choosing this company for replacement engines.