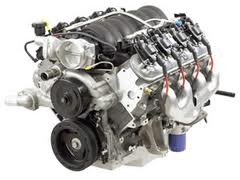 This company has acquired these preowned condition engines and is now providing an introductory price offer for all sales.
Chicago, Illinois (PRWEB) April 01, 2013
General Motors produces some of the most respected motors in the world due to investments with technology and engineering. The power, fuel efficiency and overall longevity of GM motors has helped to brand this automaker worldwide. The EnginesforSale.org company is now providing its GM 5.7 engine inventory for direct sale online. This company has acquired these preowned condition engines and is now providing an introductory price offer for all sales. Current inventory and pricing can be found online at enginesforsale.org.
General Motors has produced brands of vehicles like Trailblazer, Blazer, Silverado and its HD series pickup trucks. These vehicles have all used variants of the Vortec engine technology that GM created in 1985. This technology is part of the reputation that GM has earned as the world's largest automaker in North America.
The preowned engines that are now sold and discounted online are expected to provide the resources that truck and SUV owners cannot find in local areas.
The EnginesforSale.org company has recently added hundreds of resourceful pages online to help aid buyers in the research process of purchasing a preowned motor. These pages are designed to provide condition and other information that is useful when comparing quality and pricing between retailers. This company is continuing its efforts to provide a better website to help buyers not currently using the online quote system to discover helpful information.
Recent improvements made by this company online have included multiple engine type upgrades and faster shipments. The increase in company inventory is one reason for the new shipment upgrades for customers. The offer for free shipping has remained in place through this year to help provide a lower price point for engines purchased online. This incentive is expected to stay in place for 2013 as new efforts and incentives are created for engine buyers.
About EnginesforSale.org
The EnginesforSale.org company has positioned its website online at the top of search engines worldwide in effort to provide its inventory to more buyers in the U.S. and Canada. This company has built a respected amount of motors for sale in its warehouse to help provide resources for newer and difficult to find variants. The EnginesforSale.org company has chosen a lower price structure to help reduce installation costs for replacement motors. This discounted pricing applies to I4, V6, V8, V10 and diesel engine types that represents the most popular units in the company inventory for sale.